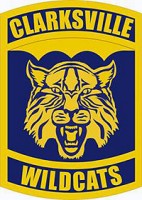 Clarksville, TN – Clarksville High School golfer Sam Davis became the second player from this year's District 10-AAA boys championship team to sign to play college golf next year, as he cast his lot with Carson Newman College in a ceremony in the school's cafeteria April 16th.
Davis joins Hunter Richardson, who signed with Tennessee Martin in the fall signing period.
"Sam is our second player to sign this year," Clarksville High coach Adam Welch said. "I'm tickled about Sam signing and anytime you're going to a program that is winning their conference title and going to the NCAA tournament — becoming a part of those type teams — is a great accomplishment."
Davis only played one season with the Wildcats, transferring from Sycamore High School in Cheatham County, but left his mark helping the Wildcats to another District 10-AAA title before falling to eventual state champion Hendersonville High School in the Region 5-AAA tournament.
"I'm overwhelmed," said Davis of his signing with the Eagles. "I've wanted this since I was in the fifth or sixth grade, so to finally be doing it is special and it means a lot to me and my family.
"I'm super excited about the direction their program is going. The athletic director wants to usher more resources toward golf and for golf at Carson Newman to be nationally recognized sport. You can't say that is going to happen, but I really hope it does."
Carson Newman is fresh off its first South Atlantic Conference championship since 2004, under new coach Randy Wylie, and will now advance to the NCAA II Regional in Savannah, GA on May 5th.
"Coach (Randy) Wylie was the assistant coach at the University of Tennessee for 10 years," Davis said. "He played on (PGA) Tour, made the cut in two U.S. Opens, so I think he has the experience with high-level competition to get us where we want to be."
Carson Newman was the first school that Davis had talked to during his junior year, but as time went on the Eagles stepped up their pursuit and won out over two other schools that had made offers.
"They were the first school that I talked to," Davis said. "I talked with them in the beginning of my junior year – and it started academically – then they started pursuing me and blowing my mail box up with stuff all the time, so why not go out and see what their golf is about and what's going on.
"It was kind of an on again, off again thing for two years till they made an offer and I finally decided, because I had three offers, but this was where my heart was telling me to go with."
Davis also added that the fact that Carson Newman has and continues to bring in international players also factored into his selection.
"I liked it instantly — because one, it was growing and two, because they bring in international players and that was something that I was actually interested in and wanted to be in with a bigger diversity of kids. It's not just about going to play the sport it's about getting to meet new people and getting to play new people.
"They have kids from Scotland and two Canadians on the team currently. Besides bring me in, they are bringing is someone from South Africa so I'm excited about that diversity."
Along with golf, Davis plans on majoring in business administration with a pre-law path and law school after his undergraduate degree is completed.