Clarksville, TN – On Friday, April 18th, the Clarksville Police Department hosted a retirement and promotion ceremony. Chief Al Ansley presented Sergeant David Jones with a Certificate of Retirement and Sergeants Vanatta and Skinner with Promotion Certificates.
Congratulations to Sergeant David Jones on his retirement. He served faithfully and honorably for 16 years at the Clarksville Police Department. Sgt. Jones' experience and professionalism will be missed. Also, congratulations to Detective Nathan Vanatta and Officer Beau Skinner on their promotions to the rank of Sergeant.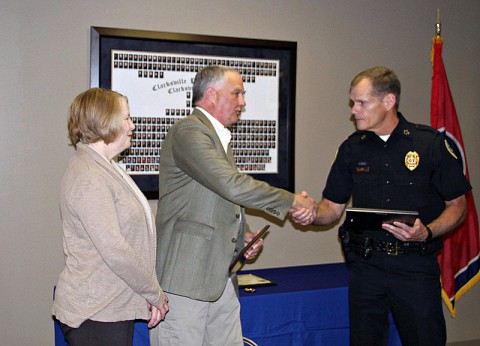 In attendance with Sergeants Jones, Vanatta, and Skinner were their wives; Jo Jones, CPD Officer Heather Vanatta, and Jamie Skinner.
The Clarksville Police Department would also like to thank Mayor Kim McMillan, Councilwoman Kay Jones, Councilman Geno Grubbs, family, and friends for attending this ceremony.
And special thanks to the CPD staff who organized the ceremony.
Photo Gallery