Austin Peay Sports Information

Muscle Shoals, AL – Austin Peay State University women's golf team has much ground to make up in the Ohio Valley Conference golf tournament.
The Lady Govs shot an opening-round 320, Monday, and sit in seventh place after Day 1 of the tournament, being played on par-72, 6,203-yard Fighting Joe layout at The Robert Trent Jones Golf Trail at The Shoals.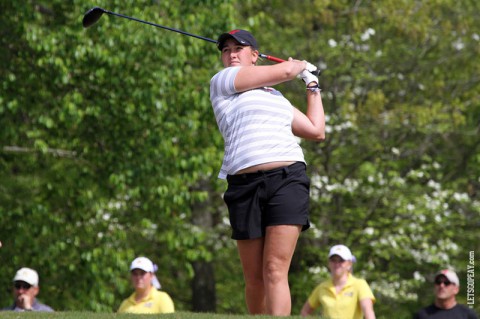 "We just had too many big numbers today," APSU coach Sara Robson said. "We had at least six or seven high numbers, I am talking more than doubles. That kills us. You can go from 77 to 83 in one hole."
Senior Tala Mumford led the Lady Govs with a 3-over 75, a round that included two birdies and five bogeys.
"She was hitting the ball pretty solid," Robson said. "She was confident in her club selections. When she got over the ball she knew it was going where she wanted it to. With a few exceptions, that was very true. She made some putts but really all she did was hit greens."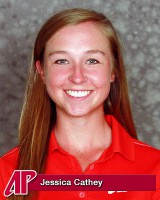 Sophomore Jessica Cathey could not find her putting stroke and finished with a 79, that included six bogeys and one double to go with just one birdie.
"Jessica just struggled some on the greens," Robson said. "A couple of putts fall for her today and she is at 76 or 77."
But that was it for the Lady Govs with sub-80 scores. Senior Rachel Deaton struggled on the final two holes to finish at 86 while freshmen Amber Bosworth and Morgan Kauffman shot 82 and 84, respectively. In fact, the latter rebounded from a 10 on the first hole to at least be one of the Lady Govs counters, Monday.
"I think our freshmen got some nerves out of the way," Robson said. "Amber played two bad holes today and it really cost her—it was two bad swings. That is what she has to learn is that those bad swings can lead us to bogey but not double or triple. Then she has to learn to bounce back from it. She did OK on one but didn't on the other. Learn to let it go.
"Morgan did a good job of that. Morgan went 5-over on that first hole, but she let it go. She did have some bogeys in there that we might have been able to avoid but for the most part she held it together."
Robson believes the Lady Govs ability to rebound will be both physical and mental.
"We have to think about how we played them today and restructure our club selection," Robson said. "Also we may have to change our game plan a little bit for those holes and play for par on those holes."
Box Score
| | | | |
| --- | --- | --- | --- |
| Finish | School – Players | Round 1 | Totals |
| 7 | Austin Peay State University | 320 | 320 |
| 9 | Tala Mumford (3) | 75 | 75 |
| T 19 | Jessica Cathey (1) | 79 | 79 |
| T 31 | Amber Boswoth (5) | 82 | 82 |
| T 36 | Morgan Kauffman (4) | 84 | 84 |
| 42 | Rachel Deaton (2) | 86 | 86 |
| | | | |