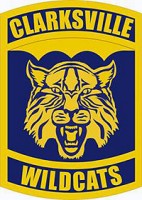 Clarksville, TN – The Clarksville High Lady Wildcats defeated the Northeast Lady Eagles 4-0 Thursday, April 24th, and clinched the District 10-AAA regular season title.
The Lady Wildcats scored three runs in the first inning. Although they added one more run in the seventh, Heather Norris made sure the first three was all they needed by pitching a shutout.
Norris struck out 11 and allowed just four hits in the Lady Wildcats 13th conference win of the season. Norris' catcher, Haley Bearden, slugged bombs into the outfield all day, batting 2-for-4 with a single and a 2 RBI double.
Lady Eagles relief pitcher, Ericka Webster, had a strong day on the mound as well. Webster allowed only one run from two hits. However, by the time she took the mound in the first inning, the damage was done.
Lady Eagles starting pitcher, Alicia Veltri, picked up the loss. Veltri faced six batters in the first inning and allowed three runs from two hits.
Leading off, Norris reached on a bobbled ball by the Lady Eagles third baseman. Then, Clare Grady was walked, putting two runners in play when Bearden made her first batting appearance.
On a full count pitch, Bearden smacked a shot to the left field fence for a standing double that brought both runners in. Later, Bearden stole third and was brought in on a RBI single hit by Tiana Gray.
Those three runs held while Norris kept the Lady Eagles grounded with at least one strike out in six of seven innings. The Lady Wildcats defense backed up Norris by committing no errors in the game.
Webster struck out only two, but kept the Lady Eagles within striking distance all game. After sending two well hit pop flies into outfield for outs in her next two at bats, Bearden dropped one into shallow center for her second hit of the game in the seventh inning.
Next up, Peyton Wilson made a hit into outfield good enough for a single. A bad throw to third allowed Bearden to score. Another bad throw after Bearden scored, allowed Wilson to advance to third and attempt to score as well. However, Wilson was tagged out at home plate.
Down 4-0 in the bottom of the seventh, Norris retired the Lady Eagles batters three up and three down with a pop fly and two easily played ground outs to first.
The win guaranteed the Lady Wildcats the District 10-AAA regular season title. The Lady Wildcats have lost only one conference game so far (13-1) and improved to 27-13 overall.
Photo Gallery
Box Score
| | | | | | | | | | | |
| --- | --- | --- | --- | --- | --- | --- | --- | --- | --- | --- |
| | 1 | 2 | 3 | 4 | 5 | 6 | 7 | R | H | E |
| Clarksville High Lady Wildcats | 3 | 0 | 0 | 0 | 0 | 0 | 1 | 4 | 4 | 0 |
| Northeast Lady Eagles | 0 | 0 | 0 | 0 | 0 | 0 | 0 | 0 | 4 | 3 |