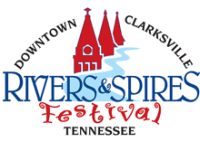 Clarksville, TN – The last day of the 2014 Rivers and Spires Festival continued to be the best in memory. The weather was absolutely flawless, neither too hot nor to cold. There wasn't a cloud in the sky throughout the entire day.
I rushed down to the Festival at 9:00am to catch the annual WJZM 1400 AM Clarksville in Review broadcast from the Festival. This usually is held at the Bill Roberts thunder road automotive tent on Franklin Street just down from the Roxy Regional Theatre. The program was already well underway when I arrived.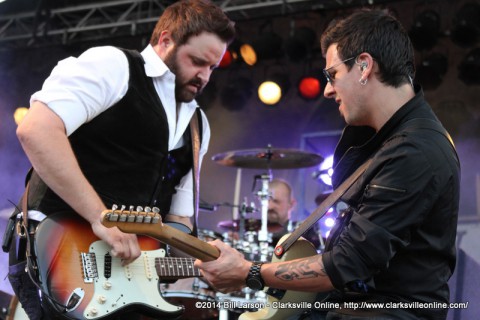 Even though the festivals is not due to open to the public for another two hours, volunteers are busy at work getting ready for the longest day of the three-day festival's events. Golf carts zoom back and forth in a never-ending flow carrying people and supplies up and down Franklin Street. A few people who are clearly not working the Festival stroll up and down the streets watching the frantic activities.
Dave Loos, Julie Knight Morris, and Janese Cleary were on hand representing the radio station. They bantered back and forth and carried out various interviews with some of the people responsible for making the Rivers and Spires Festival happen.
"It's great! I love the fact that they added gig-city-gaming, I think it's a great feature. The sports zone is great. What I like is each year he adds something new and different to change it up to give people a reason to get excited and get back down here," said Dave Loos the host of Good Morning Clarksville.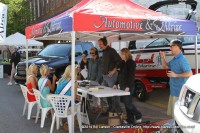 His co-host Julie Morris added, "I think it's a great time for people come out with their families. It's the spring time in the weather is getting nice. I am just so glad that the weather is going to be nice for this year. I'm looking really forward to seeing the entertainers on the different stages, and just walking around. I've been here this morning since about 7:30 AM, I plan on coming back with another friend after lunch, and maybe someone else tonight. Such a good time to come out and see what all Clarksville has to offer!"
Interviewees included Christie Batts from CDE Lightband, Gregory Richardson owner of Colorado Cutthroat Connection (C-3), Robin Burton VP Communications & Marketing from the Clarksville-Montgomery County Economic Development Council, Miss Tennessee USA 2014 Kristy Landers Niedenfuer, Miss River Queen Bailey Piercefield, Miss River Teen Macy Moyer, and Bill Roberts from Thunder Road Automotive and Marine.
After her interview Christie Batts from CDE Lightband spoke with Clarksville Online. CDE Lightband is one of the major sponsors of the Rivers and Spires Festival. "I think the Festival was going great this year. The weather gods of shined upon us, and we have a beautiful sunny day. The volunteers and organizers of the festivals have put everything into place everything that people could possibly need to enjoy the Festival."
She then talked about the launch of the Gig-City-Gaming Area on Friday, "We had a great time last night kicking off the gig city gaming. We had a lot of folks participating. We expect that room to be packed today with kids and families out there having fun and playing games and stuff."
She concluded, "I think it's gonna be a great Festival. And then they gotta finish it off tonight with the headliner Randy Houser. It's gonna be huge concert, and fabulous night, and is gonna be such a blast for everyone!"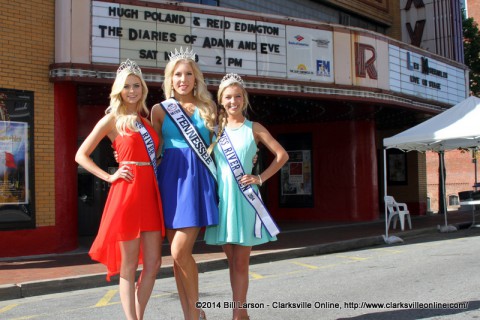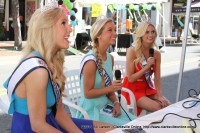 I got a a minute to talk with the Festival Queens after their radio interview. I asked Jordan Davis, Miss Tennessee USA what she thought about the Festival, "I think it's great it's a great way for the community and local businesses to come together and promote with a stamp for what the selling and stuff like that. It's always great to be involved with the community and talking with everybody." I then asked Miss River Queen Bailey Piercefield and Miss River Teen Macy Moyer how it felt to be the official Queens representing the Rivers and Spires Festival. "It feels amazing the rivers and Spires Festival has something for everyone performances, community events, it's just a lot of fun!" Said Piercefield. Moyers added, "And honestly it's such a great time. It's such a great way for the community to come together and celebrate the successfulness of Clarksville."
Watching the interviews take place was very informative, and I learned a lot about the Festival and the people behind it.
At 10:00am I headed over to the to watch the Korean-American Association present a traditional Korean dance and drum program on the Third and Main Street Stage. It was spectacular to watch and I got some great pictures that you can see in the photo gallery.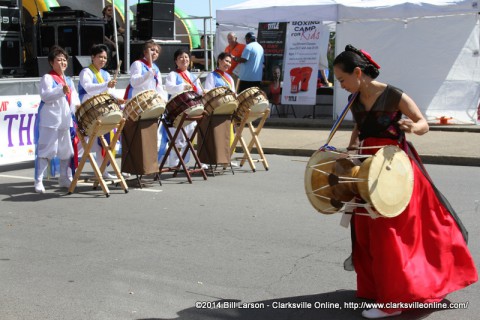 Other groups were getting ready for their performances later in the day including the Hui Hawaii O Tenesi Hawaiian Civic Club, and the Ballet Folklorico Viva Panama dancers.
When they finished up I headed over to the Austin Peay State University Sports Zone where I watched as kids took part in various athletic endeavors with the assistance of APSU players, cheerleaders, and other volunteers.
I was fortunate to run into Alaric Klinghard who handles the athletics marketing and promotions for Austin Peay State University. "The Rivers and Spires Festival has been a lot of fun for us. Our team members have been on hand for the last two days running the Sports Zone. It has been a great opportunity for us to show off our recently redesigned logo, and put our new branding marks out, and give the community an opportunity to see what we've got going on! We're are excited to see all of the people coming by. We also had some great items bags, logo balls, and things that nature that people were able to get and take with them. We want people to have the opportunity to embrace all of the things that we are doing and it's been a lot of fun.
He concluded, "We made a lot of changes in the past six months or so and this is kind of the pinnacle event for us! We been building up to this and with spring football tomorrow out at Fort Campbell so we have been keeping very busy."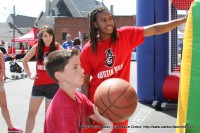 The Sports Zone activities included inflatable's, soccer, archery, basketball, baseball pitching, among other activities. It was a chance to try your hand up against these college athletes, though I think they toned it back a bit, in order to make sure that no one felt bad about their athletic abilities.
I made a quick pass through the Chevys on the Cumberland exhibit I saw people talking and having a good time as they enjoy the love of classic Chevrolets. Owners were applying spit and polish to make sure that their vehicles look top-notch and they were. A young boy peeked under a hood gingerly resting his hand on the classic car's gleaming radiator.
The Festival had kicked off by this point and crowds were starting to show up in droves, as the day wore on, the streets got more and more crowded; and by time Randy Houser played later that evening it was wall-to-wall people.
The Johnsonville Brats Big Taste Grill was a very popular stop! It seemed as if mustard and ketchup was being ladled by the gallon onto scrumptious sausages. Money raised selling the Brats during the Rivers and Spires Festival was going to benefit the Clarksville group Bikers Who Care. These big-hearted bikers provide money to fund Camp Rainbow a week-long haven for kids with serious illnesses, and many other charitable endeavors across the Clarksville Montgomery County area throughout the year. Choosing to support them was an outstanding decision by the Johnsonville people!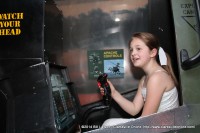 In the military appreciation area I spent some time checking out the Total Army Experience vehicle and it was great I even took a few minutes to fly the Apache helicopter, and the drone. I was surprised at how stiff the controls were, and one of the soldiers told me that was nothing compared to the real thing.
At the fifth special forces group static display Green Berets were showing their vehicles and other equipment to Festival attendees. An older African-American gentleman spoke to soldiers about their weapons, as a young boy tried out the satellite communications gear. The MWR booth provided copies of their award-winning MWR life magazine.
AUSA and the 101st Airborne Division Association were providing military retirees information about their products and services.
Sgt 1st Class Cameron Cortez, Commander, for the Clarksville Recruiting Center in charge of the Total Army Experience and the static displays. "The van itself has two Apaches simulators that they can actually fly, it's about a five-minute thing where they can she down things and stuff like that. We have a robotic arm we you can pickup of different stuff including water bottles, and key chains. A shoot house with electronic M-16 when they can shoot targets. Then the last thing they have is where they can actually fly a drone simulator around Nashville, Tennessee."
He continued, "Being able to bring the Total Army Experience to the Rivers and Spires Festival is a great opportunity for enhancing our already great relationships with the local community; after all the he Festival is located just outside of Fort Campbell, a major Army installation. It lets us demonstrate to kids throughout the community some of the things that we do in the Army. It lets us showcase a more technical side of the Army."
Wayne St. Louis the chairman of the Clarksville-Area Chamber of Commerce's military affairs committee, and former Command Sgt. Maj. for the 101st Airborne Division took a minute to speak with Clarksville Online about the Rivers and Spires Festivals commitment to supporting our local military families and retirees. "It's outstanding! I will tell your that there are a lot of people who talk about the military, and the community support around the military; but here it is in action. The community and Fort Campbell and her interacting. It's so great to see all the soldiers and their families who are out getting a chance to see firsthand just supportive this community actually is! It's truly amazing!"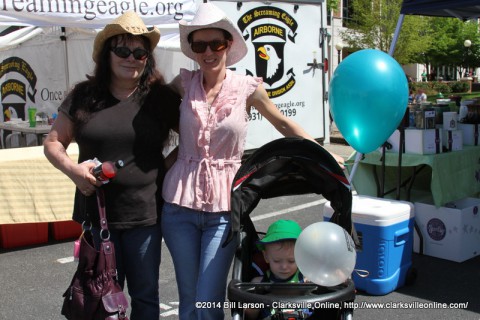 He introduced me to Tony Koch, Executive Secretary for the 101st Airborne Division Association.
"I think it's good to be of a let people see us out in the community. This is a huge veterans community. When they see the 101st Airborne Division Association out here, it lets people know that the Association exists, that they can join it, and through it they can link up with their old friends and battle buddies."
When asked what his favorite thing about the Festival was so far he responded, "I really like the Johnsonville Brats truck it's really neat.
I went by the courthouse stage the Daymar Institute Stomping in the Street was underway, the North West High School step team was performing. Several soldiers from the military appreciation area had drifted over to watch them strut their stuff.
More car lovers together to fun of the old Leaf Chronicle building to check out the classic cars from the Memory Lane Cruisers which featured a variety of classic cars trucks and other vehicles.
I ducked through the World Vision Experience which promised to take Festival attendees on a bus ride to Africa. Programs there included a virtual bus, classroom, and other exhibits designed to make people think more seriously about water conservation, and helping those who are unable to help themselves in Africa.
Sheriff's Department officers stood guard at the boundary of the Family Fun Zone to make sure that no beer entered this family safe area. Some of the activities included a very actively used laser tag arena, the Montgomery County animal control mobile adoption trailer, Quilts on the Cumberland, the Toddler Zone, kids zone, teen zone, and the The Green Zone; as well as The Family Fun Zone Stage.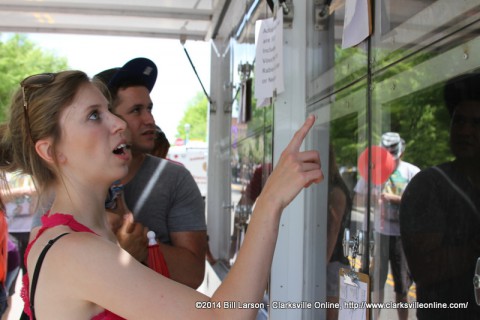 I took a moment to speak with Tim Clifton the director of Montgomery County Animal Control, "Last year at the Rivers and Spires Festival we did a total of 29 adoptions. On our Friday, our first day for this year's festival we did 9 adoptions, and so we're looking to meet or exceed that number this year."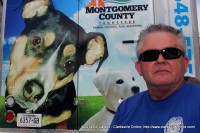 I asked him what people can do to help control the animal population in Montgomery County and Clifton responded, "recommend that everyone Spay and neuter their animals. It would reduce a lot of the problems that we regularly see down at animal control. That's what makes most male dogs run away is that they find a female in heat, and so they run away. But when you spay and neuter your animals you don't have to worry about that."
I asked how the mobile adoption trailer was working out for his department, "People love the trailer, you can see that big gaudy thing from a long way away. People love it! They won't come to the shelter because they think it's a sad place when it's really not it's a happy place now. But they will come to the trailer. At times you'll see people lined up 10 deep out there waiting for their chance get up close and see the animals; so it's been really good!"
The Barksdale Elementary School Bengal Pack was just taking the stage as I entered the family fun zone area. These young kids put their heart and souls and the their music as their excited family and friends watched from the audience.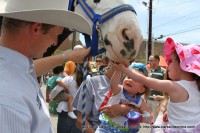 A couple of the enormous horses from the Express Clydesdales were being shown to the children in the kids zone. They were able to get up close and personal with the animals under the supervision of a professional animal handler.
In front of Planters Bank a small train loaded up with parents and children passed by me, with one red balloon floating in the air. Near First Baptist Church, a young lady was climbing to the top of the climbing tower with a safety rope ensuring that she made it up and back down again safely. Nearby groups were gathering for the Children's Parade which was to begin shortly.
The inflatables in the Fun Zone come in every size shape and color sure to delight the young boys or young girls mind. They ranged in color from masculine red and blue, to feminine pink and purple. A young girl in a ponytail stood on inflatable placing lips on a giant Mr. Potato Head
Near the toddler area a bubble machine had been set up, and soap was everywhere! Young kids standing in soap up to the knees stuck out their arms and brought the bubbles to the faces leaving sudsy beards on their young faces. I wondered to myself if any kids had become lost in that wonderful bubbly mess.
I got my first chance to talk with Jessica Goldberg the Festival Director for the Rivers and Spires Festival, I asked her how things were going. "Oh my goodness, we love it! It is going so so well; and all I see is smiling faces all around, and so I take that as a good sign too."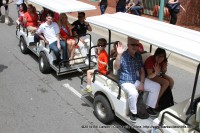 Next I asked her about what goes into planning the Festival, "We actually plan year round so come April 27 the were cleaning up, were already talking about the 2015 Festival. So we try to think of new things new ideas, and new events to bring to the Festival all year round!"
I then asked what is your favorite thing about the Festival. She answered, "My absolute favorite thing about the Festival is to really see it all come together I like to see the logistics behind it. Making something different for everyone on the streets, and seeing so many people come out. Clarksville is just a melting pot of all different kinds of people and I like to see every single one of them having a good time on the streets! That is my favorite thing seeing everyone have a great time."
I then asked her if she had any scoops on next year's festival and she responded, "Next year I'm going to try and have the exact same weather as this year, because it is amazing!" She laughed.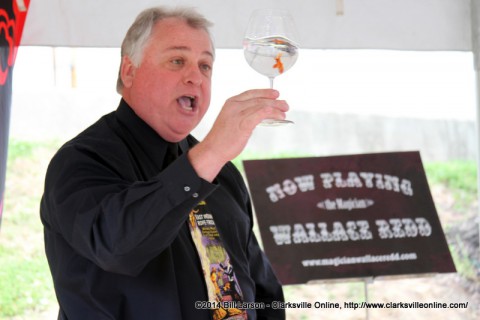 City Councilman and County Commissioner candidate, and part-time magician Wallace Redd was performing to a group of young people under the tent in the toddler zone. As he spoke to the children he made two small goldfish appear in a goblet of water. Then he asked the audience for their assistance. Several young boys and a young girl raised their hands and Wallace picked the young lady. He paused for a picture with her before he continued his tricks.
Nearby new mothers were talking about feeding and care of their babies. Rice box and the imagination library were handing out information.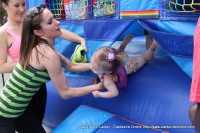 A mother was attempting to lure her young daughter out of an inflatable so that they could continue on their way. But the daughter was having none of that, forcing mom to lean in and pull her gently out. Mom had a big smile on her face but, her daughter wasn't quite so sure what she thought about it.
A beautiful young girl in a flowered dress with a big smile on her face went down the slide on the next inflatable. She was followed by a little boy who hadn't quite worked up his courage to give it a try and so went back down the way he came up.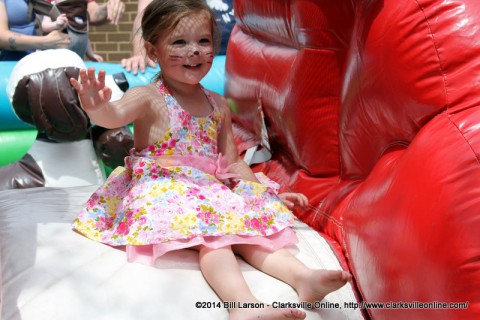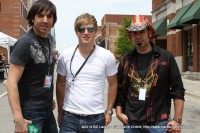 I ran into the members of the band Saints of Havana by the Montgomery County Courthouse. These gentlemen having finished the performance were enjoying all the sights that the festival had to offer.
On the lawn of the courthouse were signs listing the sponsors for the Clarksville Civitan Club's $10,000 Scavenger Hunt. Sponsors Included F&M Bank, DBS & Associate's Engineering, Orgains Building Supply, Valvoline Instant Oil Change, the Eden day spa, The Hand Family owners of the Local Budweiser Distributing Company, among many others.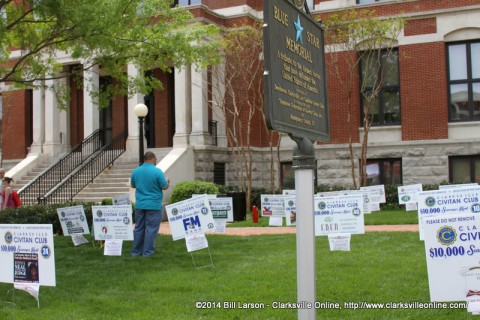 Volunteers from Heritage Bank, requested that I take the picture and I was only to happy to oblige! Nearby another Festival volunteer was helping a couple figure out where it was that they wanted to go.
The Children's Parade caught up with me so I hurried over to N. 2nd St. and the Johnsonville Brats Big Taste Grill where the chefs allowed me to climb up to get a better view of the action.
Jaden Smith was the official bell-ringer for the Children's Parade. Immediately behind him were the golf carts carrying the Festival Dignitaries. The Clydesdales were up next, followed by the stilt walkers. Then there were a variety of community and civic organizations. Then the Star Wars Rebel Legion took Clarksville by storm. The parade was closed out by gigantic puppets with figures of an elephant, lion, pirate, and of pink pig.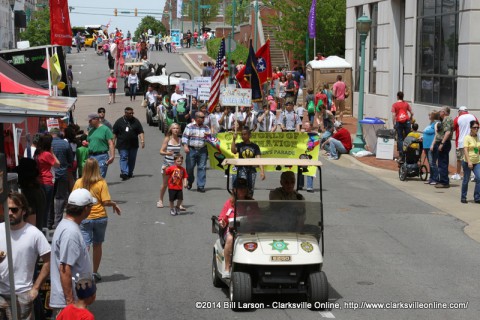 Next I headed back CDE light band and C-3 Cutthroat Connection gig city gaming area but found that the batteries in my flash had died. I headed towards the car, taking pictures as I went along Franklin Street. These photos included several little girls in colorful face painting. The crew from the Sango pharmacy, as well as Meeks and Meeks Attorneys-at-law. At the Daymar Institute booth a young boy dropped the token into a Plinko game to determine what prize he would receive.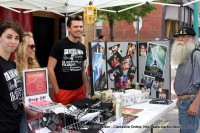 Ryan Bowie and the crew from the Roxy Regional Theatre were talking to a Clarksville resident about their various programs. I managed to get a shot of Bryan Hayes & The Retrievers performing on the public square stage.
Checking in with Festival director Jessica Goldberg I detoured back to the military appreciation area to catch the arm wrestling competition in action.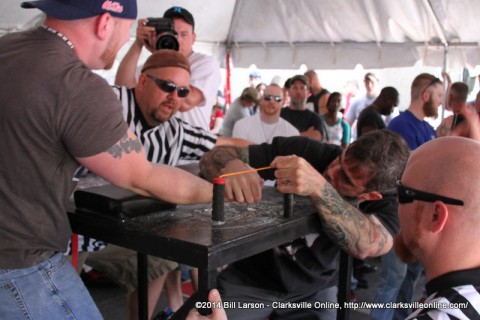 At this point I had to leave the Festival to take care of her a few errands and obligations. Returning at 5:00pm I took a couple of pictures of Hotlanta, the Allman brothers tribute band; before I headed back up Franklin Street and was able to get pictures of the kids taking full advantage of the gig-city-gaming area.
I then detoured up to the Main and Third Street Stage to try to catch Tina Brown performing, but she had already finished playing her number and was sitting with her mother.
The Tina Brown Band will be holding  a Blues and Jazz Festival on Saturday, May 31st from 4:00pm until 9:00pm at McGregor Park. Besides the Tina Brown Band, some of the other performers are Sunny Killebrew, Denise LaSalle, Grove Therapy, Tim Lynch and the Exit Right Band. All ages are welcome. Donations will be accepted. A percentage of the proceeds will help Manna Cafe build a homeless shelter. For more information, call 931.249.4937.
I returned to the public square stage and found Kazual performing. They were opening for Randy Houser! Earlier in the day, I had shared a table during a quick lunch with these four gentleman and the manager, and they were really a great bunch of guys. Seeing them on stage I was able to see their true talents. These boys really know how to utilize a stage. I even had a few of the younger audience members shooing me away from their line of view, as I attempted to take pictures from the press box area in front of the stage.
Many of the people dancing in front of the stage were clearly Randy Houser fans who were trying to stake out their position early, and were clearly enjoying the preshow entertainment!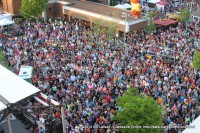 At 7:00pm sharp the lights came up as Randy Houser and his band took the stage by storm. The music riled up the crowd, and had them singing along with the performance. I took a few shots of the show and before I knew it media will being told it was time for the media to go, and leave the show to the fans. I headed up to FM bank where Khandra Smalley graciously allowed members of the media to take shots of the crowd from the balconies at the top of the bank. You simply do not have a full comprehension of just how many people attend the Rivers and Spires Festival headliner concert until you have the chance to see them from above. It was wall-to-wall people!
I want to say kudos to Festival director Jessica Goldberg, and to all of the folks who donated their hard work and efforts putting together an absolutely flawless Rivers and Spires Festival this year! It couldn't have been any better!
Photo Gallery
Backroads Brigade
Tina Brown
DirtyBirds, the 101st Airborne Division New Orleans Jazz Band
Syd Hedrick and The Phalcons