Nashville, TN – Campbell Crossing, Lend Lease's privatized military housing community located on Fort Campbell, is honored to announce it was selected as a 2013 Residential Communities Initiative (RCI) Unsung Hero Award recipient.
Awarded by the Department of the Army, U.S. Public/ Private Initiatives Division, the RCI Unsung Hero Award is given to teams and individuals who go beyond their normal outstanding service to take care of Soldiers and their families who defend our country.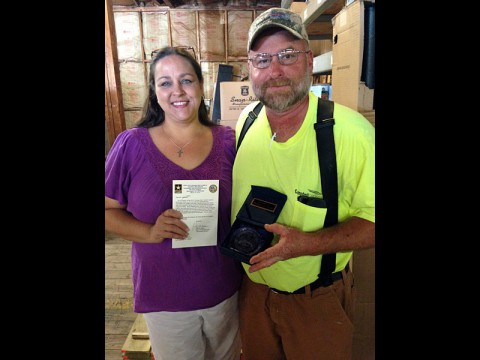 Campbell Crossing was recognized for not only serving the brave men and women of Fort Campbell, but for its active role in the local community and its support for multiple charitable organizations throughout the year.
Over the past year, Campbell Crossing employees participated in a voluntary "jeans day" in exchange for a five-dollar donation. Each month the funds were donated to a different charity. Over the course of a year, Campbell Crossing gave charitable contributions of $4,300 collectively to the following organizations: Hope Pregnancy Center, Hopkinsville Salvation Army, Susan G. Komen Foundation, Wreaths Across America, St. Jude, The American Heart Association, National Autism Association, Operation Home Front, Souls to Soles and Manna Café.
In addition to financial support, employees also volunteered their time to local organizations such as: Fisher House, Woman's Shelter, Western Kentucky Veterans Cemetery and Empty Bowls.
"The Campbell Crossing team is continuously looking for better ways to serve our Soldiers and their families," said Mike Goodwin, project director for Campbell Crossing. "Not only do they continue to show their support for our military families, but they are constantly seeking ways to get out in the local community and give back. It is a great feeling to be able to help improve the quality of life for Soldiers and their families and to also be able to make a difference by supporting various charitable organizations that support our greater community."
In addition to the team receiving this award, one special Campbell Crossing employee and his wife were recognized with an individual 2013 RCI Unsung Hero Award. Mike Killebrew, a Campbell Crossing maintenance technician, was selected for his exceptional customer service skills and for consistently earning the trust and respect of the Soldiers he serves.
Mike says that he takes the time to connect personally with Soldiers and their families, which led him and his wife Gail, to do something truly special for a family who was coping with the loss of their son.
While completing a routine work order Mike learned of the loss of the couple's 20-month-old son, who adored a dream catcher that hung above his crib. After offering his condolences, Mike went home and told his wife Gail, who happens to be Native American, about the family and what they were going through.
Together, Mike and Gail decided that their healing contribution to this family would be to make a beautiful dream catcher, which Gail blessed for the family through a tradition used by the Cherokee Indian Tribe.
Through their actions, Mike and Gail created a new dream for the family and while their son took the original dream catcher with him, Mike and his wife provided a bridge for the family to cross over in their healing journey.
"Forming relationships with our residents is truly important," said Mike Goodwin, project director for Campbell Crossing. "Mike and Gail's thoughtful and heartfelt gift proves time and time again that going into these families' homes is more than just a job for our team members. We not only want to go in to complete a task, but to make a real difference in the Soldier's and their families' lives every day."
About Campbell Crossing
Campbell Crossing LLC, the partnership between developer Lend Lease and the Department of the Army, is the premier housing community for the Soldiers and families of the 101st Airborne Division (Air Assault) and home to the first zero-energy homes project ever constructed on a military installation.
Lend Lease took over operations of Fort Campbell's on-post housing in 2003 as part of the Military Housing Privatization Initiative (MHPI), a program aimed at improving the quality of life for Soldiers and their families. Since then, the Community has received numerous recognitions, including the Army's 2012 RCI Project of the Year, National Association of Home Builders (NAHB) National Green Building Award and the National Council for Public-Private Partnerships Innovation Award.
Lend Lease will own, manage, renovate, develop, and sustain the more than 4,500 homes of Campbell Crossing until 2053. www.campbellcrossingllc.com