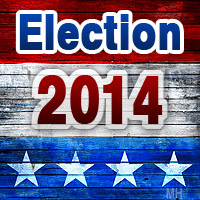 Clarksville, TN –  At the Surveying the Hill candidate forum Thursday night, US Congressional challenger Dan Cramer spoke about veteran representation in congress and offered what he called a four-step plan to combat unemployment in Tennessee and end the prevailing trend towards underemployment.
The forum was held Thursday night at the Kennedy Law Center in Clarksville and hosted by the Michael E. Henry Charities, and featured over 30 candidates in races ranging from Tennessee's US Senate race to the Montgomery County Commissioner races. Cramer was among three Candidates for the US House, all running for Tennessee's 7th district.
"I think it's a telling sign of the times that all of the candidates this year in this congressional race have military experience, except of course the incumbent," Cramer said, referring to current Representative Marsha Blackburn. "One of the complaints I most hear as I travel around the district, even from Republican voters, is that their Congresswoman does not answer calls, visit their towns, or interact with them in any way.
"I think candidates that have served in the military have a clear sense of duty and responsibility to those that they lead or represent. That is just not seen in Washington much these days," Cramer said.
During the forum, Cramer was among many candidates that discussed the need for jobs in Tennessee. Cramer used the forum as an opportunity to discuss his four-point jobs plan, starting with raising the minimum wage.
"We need a real minimum wage that also provides a livable wage," he said. "This is not a hard concept to grasp. If a worker works full time they should be taking home a wage that allows them to survive. If the rate they are paid is less than what they can live on, then by definition, it is below the minimum."
The next step is investment in infrastructure, Cramer said. "Data, power distribution, roads, bridges – all of these infrastructure needs provide un-outsourceable jobs," he said. "There is no way to outsource the huge back log of inspection and repair work that needs to done on our bridges and roads."
He added that communities that have good access to high-speed Internet and reliable power distribution networks can attract new business, and with that, new jobs.
The third step, immigration reform, which Cramer said would remove downward wage pressure on the job market.
Cramer said that workers in the economy that can be paid illegally low wages hurt the value of labor through out the economy.
"And the last step is putting an end to corporate welfare that uses taxpayer money to subsidize corporate profits," he said.
He said that this last step circles back around the to the first. "Low wages are taxpayer subsidies to corporations," Cramer said. "If we require companies to pay a living wage to their workers, we can actually cut government expenses like food stamps."
The US 7th district primary election will be held August 7th, with early voting starting on July 18th.