Written by Sgt. 1st Class Mary Rose Mittlesteadt
101st Sustainment Brigade, 101st Airborne Division (AA) Public Affairs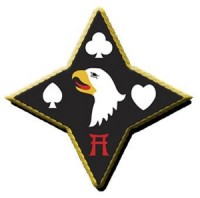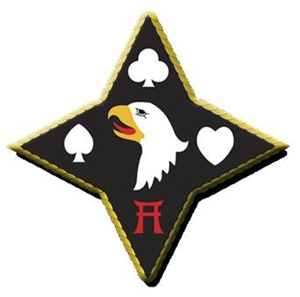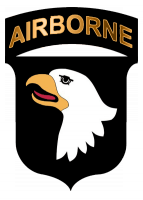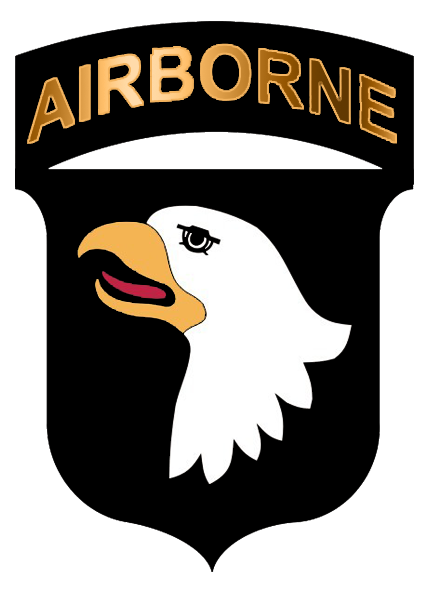 Fort Campbell, KY – Families and friends welcomed home 115 Soldiers from the 227th Quartermaster Company, 129th Combat Sustainment Support Battalion, 101st Sustainment Brigade "Lifeliners," 101st Airborne Division (Air Assault), May 4th, as they returned to Fort Campbell, KY.
The Soldiers returned in the middle of the night from a nine-month deployment to Afghanistan in support of the U.S. Central Command Materiel Retrograde Element which focused on redistribution, disposal, and retrograde of excess materiel in Afghanistan.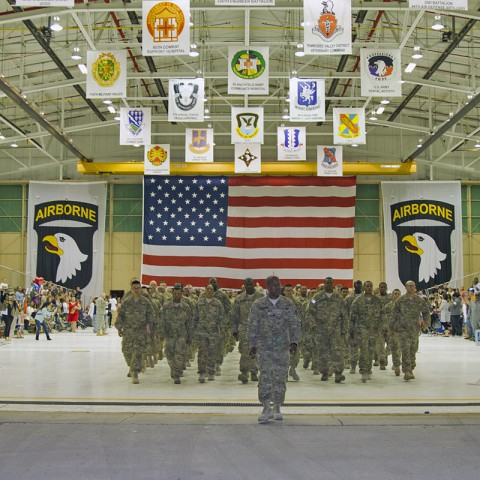 To facilitate the complex retrograde mission, the 227th QM worked from multiple locations. However, even with the unit spread out in small teams managing materiel sorting yards, the company successfully used many techniques to keep everyone on the same page.
"My unit was spread out to eight different locations in the south, east and northern areas of Afghanistan," said Capt. Patrick Peacock, the company commander. He added, "the right systems were in place."
Peacock and other leaders were able to use technology to conduct training meetings and provide guidance through online interface platforms to keep everyone in sync. They made site visits to the eight locations whenever possible to meet with their Soldiers.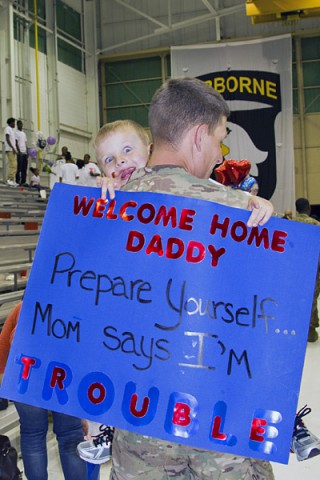 "We also did over 80 battlefield circulations, to ensure the welfare of the Soldiers and to make sure standards were met," said Peacock, a native of Chicago, IL.
Besides the command team, many young leaders made these teams successful across Afghanistan and for many of these leaders this was their first deployment. However, they proved themselves by their contributions to the mission. These decentralized teams formed tight bonds throughout the past nine months, but coming home was a well-deserved reward for their hard work.
Sgt. Robert Morrison, a sort yard NCO, was coming home to his wife Jenna and 9-month-old baby Ella. He said it was a great feeling. "Ella was born only five days prior to us deploying," Morrison, a native of Long Island, N.Y., added.
Jenna, being a prior service member herself, knew all too well what it means to be part of the military. Now as a wife, her mission for this deployment was to take care of Ella and prepare the house for her husband's redeployment. "It is weird waiting this time," she said.
After the wait, she was ready for her husband's return.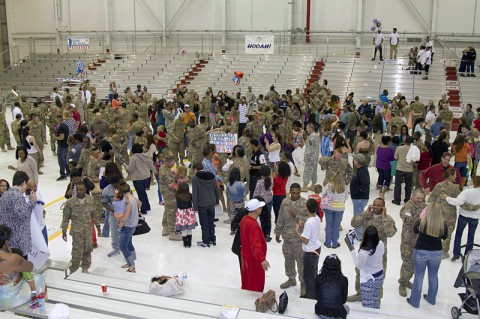 "I even have White Castle in the car waiting for him," Jenna said with a smile.
Another Soldier, Sgt. Kyle Strey, a maintenance and retention NCO, wasn't home for the arrival of his second son, Avery, who is now five months old. Although Strey, a native of Hartford, WI, couldn't be there in person, he had the opportunity to watch a live video of the birth through a video chat program with the assistance of the staff at Fort Campbell's Blanchfield Army Community Hospital.
Strey's wife Julie said that the ability to use video chat was a great way to stay connected, but that "it just doesn't do it justice. It only gave a glimpse."
Julie, Avery and Strey's eldest son Owen, who is now four, used video messaging not just for the birth of Avery, but as a way to stay connected throughout the entire deployment.
"This is our second deployment. The first one Owen was just over a year old," Julie said. Even with two deployments she was quick to say, "I don't ever think it is easy, especially going through a pregnancy alone. You have Family and friends, but it isn't the same, although Skype (video messaging) was our best friend."
Many Soldiers returned home to newborn babies and excited, anxious children. Some though, like 1st Lt. Ciara Stevenson, a native of Toledo, Ohio, received a surprise from family members who had unexpectedly driven hours to watch them walk safely off the plane.
Stevenson's parents, siblings and grandparents all drove in from Toledo, Ohio, and Fostoria, Ohio, to surprise her at the welcome home ceremony. This included her grandfather Toby Colbert, an Army veteran who proudly displayed his military pride by wearing a shirt with his Vietnam military affiliation patches.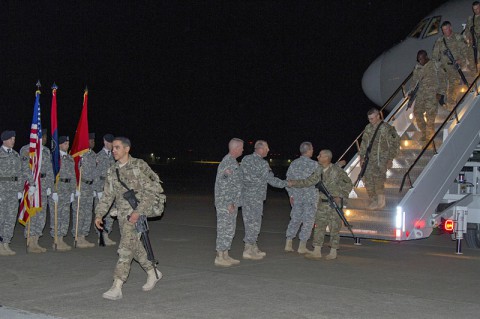 "I am so proud of my granddaughter," Toby said as he waited for the plane to land in the darkness at Campbell Army Airfield.
Moments like those, between Soldiers and their adoring families, were a highlight for the Peacock.
"This is my fifth deployment, and second time to Afghanistan," said Peacock. "To have the ability to bring Soldiers home to their family – the greatest thing I got was from a father who said, 'thank you for bringing my son back.'"