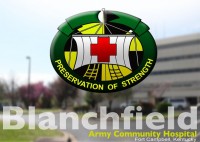 Fort Campbell, Ky – Week of the Eagles is a perfect time for you, your Family and friends to engage in healthy living. The Community Fair Saturday, May 17th from 11:00am to 4:00pm is a great time to engage in fun activities while learning how to increase your healthy living goals as the Blanchfield Army Community Hospital team sponsors the Wellness Fair. The Wellness Fair is part of the greater Community Fair and the days' activities are open to everyone.

Blanchfield Army Community Hospital's medical team supports the Week of the Eagles Community Fair by offering wellness and fitness activities focusing on the Army Surgeon General's Performance Triad. The Performance Triad promotes proper Sleep, Activity and Nutrition as a way to improve your overall health. Come out and learn how to improve your sleep, activity and nutrition as well as take advantage of all wellness related activities from over 22 BACH representatives. The Wellness fair will be intermingled with Community Fair activities in the parking lot behind the Division Parade Field. Additionally, wellness and fitness classes will be offered under the covered pavilion or in the grassy area beside the pavilion.

Stopping by the informational tables can increase the chances for you to receive a grand prize at the end of the day. Answering wellness trivia questions correctly can also increase your chances to win prizes throughout the day.

Some of the BACH wellness efforts promoted at the information tables include: anger and stress management, combined Soldier and Family fitness, community health promotion, post-traumatic stress, marital strategies, tobacco cessation, breast health, surveys for primary care and overnight hospital visits, chaplain services available, allergy and asthma education, digestive health, bone marrow eligibility, cholesterol management, eye and dental health, sleep hygiene, and cervical cancer screening education.

If you don't know your body mass index, BACH's Soldier and Patient-Centered Medical Home staff can help you determine your BMI while visiting their table. SCMH and PCMH teams will also walk their patient population through enrollment to RelayHealth, the Army's Secure Email Messaging System.

Eligible beneficiaries who are not currently enrolled to BACH will have an opportunity to enroll and begin reaping the benefits of receiving their primary care at one of the Fort Campbell medical homes. Visit the managed care and TRICARE information tables if you are interested in receiving your primary care at Fort Campbell.

Two other unique benefits offered by BACH personnel Saturday, May 17th. The pharmacy team will assist individuals in signing up for TRICARE's Mail Order Pharmacy while laboratory personnel will assist community members in swab testing to determine if they are eligible to be a bone marrow donor.

In addition, all ages are invited to join one or all of the five free fitness classes provided by certified Estep instructors and five free educational classes provided by BACH professionals. You don't want to miss out on the opportunity to engage in healthy educational classes or fitness classes, a step forward in moving you in the right direction to maximize your sleep, activity and nutrition.

Individuals interested in joining the classes can visit the following links to sign up for the class that interests them. If you are unable to connect using the e-invitation link, you may email with your name and the class you plan to attend typed in the subject line. All fitness classes will be held in the grassy area beside the outdoor pavilion behind the Division Parade Field. Individuals participating in fitness classes should wear appropriate fitness attire and bring a water bottle.



Sections
Events
Topics
Bach, Blanchfield Army Community Hospital, BMI, Fort Campbell, Fort Campbell Division Parade Field, Fort Campbell Kentucky, Kentucky, Tricare, Week of the Eagles