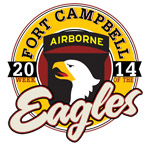 Fort Campbell, KY – Join Fort Campbell for our 2014 Week of the Eagles Concert on Friday, May 16th, sponsored by USAA.

We're really going to get the Parade Field jumping when we have Big & Rich bring their genre' crossing brand of country music to the stage at the Division Parade Field. As Big & Rich, John Rich and Big Kenny Alphin have exerted a definite "gravitational pull" to the direction modern country music has taken.

Their much anticipated new project, "Gravity" provides a stellar example of the genius of their creative brotherhood–the result of two unique musical personalities colliding to form an even greater positive sum total. Cowboy Troy will join Big and Rich as their special guest.

The evening of great musical acts will begin with our own 101st Airborne Division Band followed by Mallary Hope, and special guest star, Joe Diffie.

Joe's recently released "Girl Ridin' Shotgun" joins his chart-toppers like "Pickup Man," "Third Rock From the Sun," "John Deere Green," 13 albums and over 20 Top 10 singles his career has produced. Mallary has opened for Darius Rucker, Sheryl Crow, Jake Owen and more.

You will also be able to preview the static displays for the Spectacular Saturday event which includes some of the 101st Airborne's tactical equipment including helicopters like the Chinook, Apache, Blackhawk, Kiowa and land vehicles including an HMMWV and an MRAP!

This is a free concert. The concert venue will open at 3:00pm. Please, no outside food or beverages, glass bottles or pets. Food and beverages will be available for purchase. Text "MWR" to 68683 for a chance to win VIP access to the Text Club Tent! You must be age 21 or older to win access.

Thank you to our sponsors for making this event possible, including USAA, Fort Campbell Federal Credit Union, University of Phoenix, Mathews Nissan, USA Discounters, AT&T, Humana Military-Humana Government Business, Inc, Budweiser of Clarksville, Griller's Choice, WJZM 1400AM/WVRY 105.1FM, Creative ink, and Verizon Wireless.

For more information about 2014 Week of the Eagles, please visit www.fortcampbellmwr.com or www.facebook.com/fortcampbellmwr .



Sections
Events
Topics
101st Airborne Division Band, Apache Helicopter, AT&T, Blackhawk Helicopter, Budweiser of Clarksville, Chinook Helicopters, Concert, country music, Cowboy Troy, Creative Ink, Division Parade Field, Fort Campbell, Fort Campbell Federal Credit Union, Fort Campbell KY, Griller's Choice, Jake Owen, Joe Diffie, Mathews Nissan, Sheryl Crow, University of Phoenix, USA Discounters, USAA, Verizon Wireless, Week of the Eagles, WJZM 1400 AM, WVRY 105.1 FM