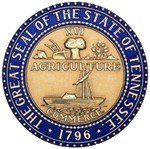 Nashville, TN – Tennessee Governor Bill Haslam today delivered the keynote address at the Tennessee Highway Patrol's annual memorial service to honor state troopers and other law enforcement officer's killed in the line of duty. The special ceremony, held in conjunction with National Police Week, took place at the Department of Safety and Homeland Security headquarters in Nashville.
Commissioner Bill Gibbons, Colonel Tracy Trott and family members of fallen troopers were also on hand for the ceremony.
Forty-one troopers have died in the line of duty since the establishment of the state's Highway Patrol in 1929. Sergeant Charles Hash was the first recorded Tennessee Highway Patrol fatality on April 11th, 1930, succumbing to injuries sustained on motorcycle patrol in Shelby County.
"We remember today the cost that 41 troopers paid to make us feel safe on our highways, at our homes, in our schools and around our communities. They recognized the risks of their job and still performed each duty with selfless acts of courage and pride," Gov. Haslam said.
During the ceremony, Gov. Haslam, Commissioner Gibbons and Colonel Trott rested three wreaths in front of the Memorial Monument outside the department's headquarters to honor the fallen troopers.
The THP has suffered the loss of a state trooper in each of the last three years. Trooper Andy Wall was killed after a motorcycle accident in Rutherford County on May 7th, 2011 and Trooper Ronnie Hale died of heart attack while on-duty in White County on July 6th, 2012.  Trooper Michael Slagle was the most recent on-duty fatality, passing away of natural causes on January 25th, 2013 in Knox County.
"The worst news to receive is that of the death of a trooper. Unfortunately, I've had to take that call five times as the Colonel and I hope to never receive another one in my career," Trott said. "The sacrifice that these troopers made is not lost on me or on any of the former and current troopers here today. There are no words to say to fill the void in our hearts, except 'Greater love has no one than this, than to lay down one's life for his friends,'" he added.
According to the National Law Enforcement Officers Memorial Fund, 49 officers have been killed in the United States in 2014. Metro-Nashville Officer Michael Petrina was struck and killed by a vehicle while responding to an automobile crash on May 10th, 2014. Officer Petrina was the second law enforcement fatality from the state of Tennessee in 2014. Montgomery County Deputy Sheriff David Johnson was also killed this year.
"The lives of 49 families have been forever changed already this year with the death of a law enforcement officer," Commissioner Gibbons said.  "They are the heroes that walked among us and they are the loved ones who have gone too soon. We honor their memory and lift up their families in our thoughts today, too."
The ceremony featured the roll call of fallen officers, a 21-gun salute and a flyover by THP's Special Operations-Aviation Unit.  Charley Talley, the daughter of Major Danny Talley, performed the National Anthem, while "Taps" was played by Trooper James Knipper of the agency's Fall Branch District. Todd Boswell honored the fallen by playing "Amazing Grace" on the bagpipes.
Visit the THP Memorial page at http://tn.gov/safety/thpmemorial/memorialmain.shtml to view all of the Tennessee Highway Patrolmen who have died in the line of duty and off-duty through the years.
About the Tennessee Department of Safety and Homeland Security
The Tennessee Department of Safety and Homeland Security's (www.TN.Gov/safety) mission is to ensure that our state is a safe, secure place in which to live, work and travel; enforce the law with integrity; and provide customer-focused services professionally and efficiently.