Clarksville, TN – The brand new Splash Park at Edith Pettus Park, located at 345 Farris Drive, now welcomes visitors!
The Splash Park Grand Opening took place today, May 23rd at 1:00pm with neighborhood residents and city officials cutting the ribbon to officially open the park to the public.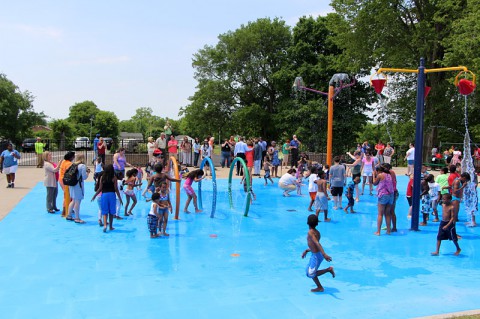 Edith Pettus Park is open daily from dawn until dusk, but the splash park will operate from 10:00am until 7:00pm this summer.
The Edith Pettus Park Splash Park is the largest splash park to date for the department, which also operates splash pads at Dixon and Lettie Kendall Parks.
The new splash park boasts six water features including "misting rings," "bucket dumps," as well as in-ground jets. The splash park also features a grassy picnic area with picnic tables.
Parks and Recreation Director Mark Tummons shared how years of wear had taken a toll on the former Edith Pettus Park and especially the pool that once sat where the splash park is located today. The department secured funding in 2010 for the addition of the splash park, a small walking trail, new backstops and ballfield improvements. These renovations allow for Edith Pettus Park to once again be a vibrant and vital part of this neighborhood for many years to come.
"Without collaboration very little can be truly accomplished, and the Department of Community and Housing Development, led by Keith Lampkin has been a strong partner in the overall refurbishment of Edith Pettus as well. They have assisted with over $150,000 in plans and surveys, additional help with curbs, the splash park engineering and the installation of the splash equipment. And they are not done, as a security camera will be installed in the next few weeks thanks to their vision and generosity to help protect the investment we've all made. Lastly, but certainly not least, Parks and Recreation has a hardworking and knowledgeable staff and without their tireless efforts this Park would not look as it does today and be ready to cut the ribbon – thank you all," said Tummons.
For more details on Clarksville parks, please contact the Clarksville Parks and Recreation at 931.645.7476 or visit www.cityofclarksville.com .
Photo Gallery