Clarksville, TN – Beat the summertime blues this year! The City of Clarksville Parks and Recreation Department will be offering lots of great activities as part of the Mayor's Summer Night Lights program once again this year! Summer Night Lights is free and open to youth and families of all ages.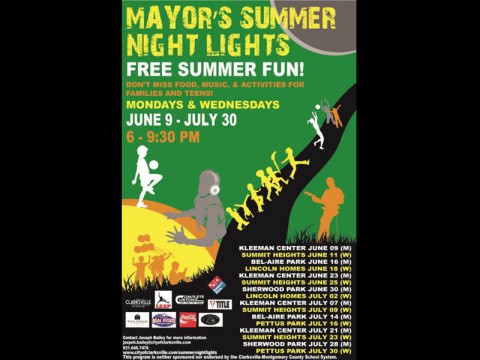 This season's Mayor's Summer Night Lights program will feature a multitude of activities including a DJ, inflatables, motivational speakers, 3-on-3 basketball tournaments each night, and so much more! There will be a nightly meal provided, free of charge, by Manna Café.
New this year, Summer Night Lights will feature a total of six locations of summer fun, the Kleeman Community Center, Summit Heights, Bel-Aire Park, Pettus Park, Lincoln Homes, and Sherwood Park on Mondays and Wednesdays from 6:00pm to 9:30pm beginning June 9th. Summer Night Lights kicks off at the Kleeman Community Center, located at 166 Cunningham Lane.
Summer Night Lights will run weekly, through July 30th.  For specific location dates, see the following schedule:
Kleeman Center, 166 Cunningham Lane
Monday, June 9th
Monday, June 23rd
Monday, July 7th
Monday, July 21st
Summit Heights, 20 Summit Heights
Wednesday, June 11th
Wednesday, June 25th
Wednesday, July 9th
Wednesday, July 23rd
Bel-Aire Park, 124 Marie Drive
Monday, June 16th
Monday, July 14th
Pettus Park, 345 Farris Drive
Wednesday, July 16th
Wednesday, July 30th
Lincoln Homes, 20j Howard Street
Wednesday, June 18th
Wednesday, July 2nd
Sherwood Park, 229 Kings Deer Drive
Monday, June 30th
Monday, July 28th
For more details on the Summer Night Lights, please contact the Clarksville Parks and Recreation at 931.645.7476 or visit www.cityofclarksville.com/summernightlights.