Written by Maj. Brandon Bissell
5th Special Forces Group (Airborne) Public Affairs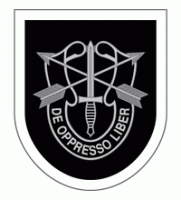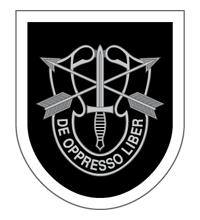 Fort Campbell, KY – Each year the 5th Special Forces Group (Airborne) family gathers on Gabriel Field to honor Legionnaires who paid the ultimate sacrifice.
Saturday, May 17th, was no different as it brought together the Group's Soldiers, Families, and friends, both past and present, to remember their fallen brothers.
Gabriel Field, named in honor of Specialist 5 James P. Gabriel, one of the first Green Berets to be killed in Vietnam, was memorialized with markers placed around the perimeter of the field.
Each marker shadowed by an oak tree in remembrance of those who paid the ultimate sacrifice in training or combat operations since the unit's activation on September 21st, 1961.
Colonel John Brennan, commander of the 5th SFG (A), spoke on the significance of the fallen's sacrifice.
"These brave warriors protected the weak, punished the wicked, and today we celebrate our fallen not only for who they were, but for what they accomplished," stated Brennan. "Their actions benefitted a multitude of people whom they never met and who will never give them the thanks they so richly deserve."
Speaking directly to those families that lost a son, brother, husband, father, grandson, uncle, or cousin, Brennan made a single promise.
"You are, and will forever be, members of the Legion Family. It is my solemn duty, and that of every man and woman in the field in front of you, to ensure you are treated as such," remarked Brennan. "Every day, and in every way, we owe this much to you."
Following a ceremonial wreath laying at each end of the field, the families were invited to place a long stemmed rose upon their Soldier's marker and tree. The offering of the rose, which dates back to ancient roman times, symbolizes a message of love.
On this day, whether they were standing in formation, sitting in the stands, or placing a symbolic rose on a memorial marker, everyone at the ceremony, and those who could not attend, were connected. The ceremony displayed how strong a bond is within a family, and it never fades regardless of time or distance.
Group Support Battalion operations complex dedicated
In addition to the ceremony Saturday, the 5th SFG (A) paid tribute to a veteran and former member of the unit May 16th.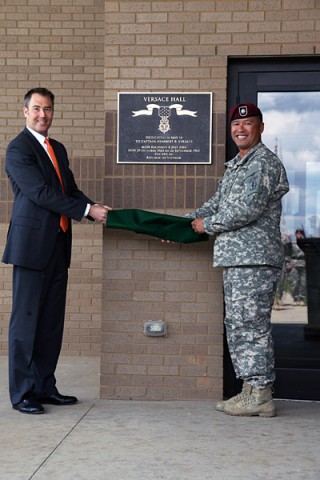 The Group Support Battalion, which provides support and logistics functions to all units within the Group, dedicated its operations complex in honor of Capt. Humbert "Rocky" Versace, a Medal of Honor recipient who died as a prisoner of war during the Vietnam War.
Versace served as a military intelligence officer for the Military Assistance Advisory Group in the Republic of Vietnam. While on patrol with a Civilian Irregular Defense Group, Versace's element came under attack by a battalion-size element. Weakened by his severe wounds and fatigued by the fierce firefight, Versace stubbornly resisted capture by the over-powering Viet Cong force with the last full measure of his strength and ammunition.
During his captivity, Versace assumed command of his fellow American soldiers, fought the enemy's exhaustive interrogation and indoctrination efforts, and made three unsuccessful attempts to escape. Unable to break his will, his faith in God, and his trust in the United States of America, Versace was executed by the Viet Cong on September 26th, 1965 after approximately two years of captivity.
During the ceremony Lt. Col. Fred Dela Cruz, commander of the Group Support Battalion, discussed the reasoning for dedicating the building after Versace.
"Not only was he a member of the 5th Special Forces Group (Airborne) and a Medal of Honor recipient, but he was an intelligence advisor who supported Special Forces. This struck a chord with me as the leader of a support unit," stated Dela Cruz. "More importantly, though, he possessed a fighting spirit, maintained an unwavering faith, and relied on a strong family that provided the foundational component of what made him who he was."
Retired Army Brig. Gen. John Nicholson, a friend and peer of Versace who served with him throughout their respective careers commented on his legacy.
"Rocky Versace is both a hero and a legend," stated Nicholson. "In my book Rocky Versace is also a martyr, which I base off of what I know of his faith and from stories relayed to me by those that served in captivity with him."
The dedication plaque, which hangs immediately outside the entrance to Versace Hall, serves as a constant reminder to all Soldiers and Green Berets who pass through its doors of what duty, service, and sacrifice truly mean.