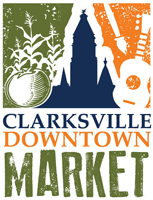 Clarksville, TN – The Clarksville Downtown Market opened last week to a spectacular reception. The market has been getting bigger and bigger every year since it was founded 6 years ago. It is a one-stop shop for produce, baked goods, as well as an incredible selection of arts and crafts.
"We've got 19 new vendors this year," said Matthew Nixon, an event planning specialist, and the Downtown Market Manager for the City of Clarksville's Department of Parks and Recreation when he was asked what's new at the market this year. "We're doing kids crafts every Saturday now. We got four food trucks which were very proud of. So we've got a little bit of new things here and there, and if you look around we have grown a little bit since last year."
He continued, "The Downtown Market has been a huge draw since we started it, and every year it gets bigger. So far this year's been our biggest opening-day yet. We expect between 5000 to 6000 people based on a polling of vendor sales." Indeed parking can be an issue in the general vicinity of the market, but there is plenty of parking nearby, if you're not afraid to walk a little bit.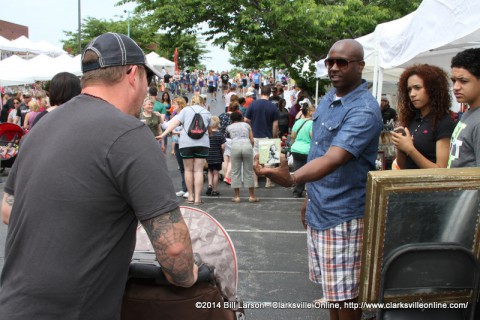 The market has been an incredible draw to the historic downtown area. "We love our location and we love being here in Historic Downtown Clarksville," said Nixon. "The Downtown Market provides Clarksville citizens with a service that has been desperately been needed in Clarksville for years."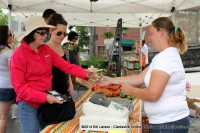 He explained why, "You can find fresh locally grown produce that is in season, baked goods such as breads anytime this week you want really. We got ice cream, we got kettle corn, we got arts and crafts. Most anything you need to keep a full belly, or a neat arts and crafty home."
Nixon recommends the market as a great option for budget conscious shoppers, " Shopping at the market is a great way to keep your budget under control when it comes to buying groceries. You're are going to come to the Downtown Market and find that most of the produce and baked goods are so much cheaper than you'll find it at a big box store." He continued, "You'll find the items are also fresher which means it both tastes and smells better; and better for your family as well. This is pretty much a one stop shop for eating healthy and eating fresh." Nixon then added his personal recommendation, "I wholeheartedly recommend that people check out the Downtown Market, and not just as the manager, but as a happy shopper!"
He also loves the social aspects of the Downtown Market, "I believe that Clarksville and the surrounding cities and sets have really taken to the market," he said. "It really brings out the best in our community. If you look around your see just hundreds of people out here just interacting with each other. It's become a destination point for Clarksville which we are very proud of."
Entertainment on opening day was provided by Dustin Overbeck, a musician from Nashville, Tennessee. "He is a great artist that we've had come and perform here a few times," said Nixon.
Nixon expressed his appreciation for the Montgomery Farmers Co-Op for sponsoring the market this year. "I would like to thank the Montgomery County co-op are being our sponsor this year. Josh Briggs is the general manager and they really come through for the market this year. They were happy to jump on board with us because they solved the potential of partnering with the farmers market and how much it can help not only us but the business as well. So thank you to the Montgomery County co-op."
Clarksville Firefighter Michael Rios was on hand shopping with his kids. "I love the Clarksville Downtown Market, and I am glad it's back. I come down to the market every chance I get," he said. "I love the freshness of the produce you can find here, as well as the variety of merchandise offered at the various tents."
Nick Pappas was one of the merchants on hand offering products to shoppers at the Clarksville Downtown Market. "The market is bigger than it was last year, and it's been a really wonderful turnout for this year's opening," he said. "It's just marvelous, and I am happy to be back here. I appreciate the city of Clarksville for allowing this to happen."
Pappas was selling walking sticks, 100 year old barn wood breadboard's and spice racks, his Pappa's Peppers Pizza Oils, and Bhut Jolokia pepper plants. "I also always bring fresh herbs with me to hand out to the ladies," he said.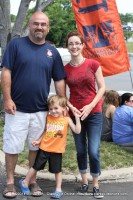 "Being a merchant at the Clarksville Downtown Market gives my business access to a lot of people, and that helps me build my brand and name recognition," he continued. "People come to see me! People know Pappas Peppers Pizza Oil! I need my pizza oil! And that is because of the downtown farmers market!"
The Clarksville Downtown Market continues today, if you want an opportunity to check it out! The market is open from 8:00am to 1:00pm every Saturday through October 18th on Public Square beside City Hall in Historic Downtown Clarksville
If you are interested in participating as a vendor at the Downtown Market, you can contact the Clarksville Department of Parks and Recreation at (931) 645-7476. You can find them on the web at www.cityofclarksville.com . You can also find the Clarksville Downtown Market on Facebook. "We would appreciate become a fan you like what you see out here," concluded Nixon.
Photo Gallery