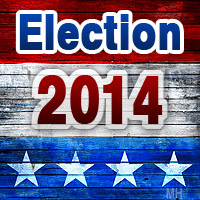 Clarksville, TN – Curtis Johnson, Tennessee State Representative, has announced he is running for reelection in District 68.

"I want to help Clarksville become a great place to live and work. By passing laws to help businesses thrive, more jobs are created. By passing budgets to fund our K-12 schools and universities, such as Austin Peay, we provide educational opportunities for our young people," said Johnson. "By passing incentives, businesses will come from other states to our business-friendly state.  With Fort Campbell being located in Montgomery County, it is important to provide incentives and services for our military servicemen and women and our veterans. "

"I want to continue to help citizens navigate through the State Government maze when they have problems with a Tennessee Department or Agency," stated Johnson. " During my service in the General Assembly and since my election as the Speaker Pro Tempore of the House, great strives have been made to become more efficient and effective with our tax dollars.  I want to continue working for Montgomery County in the State Legislature."

Johnson went on to say, "The State Legislature has such a major role in the lives of every citizen—from educating our children, to jobs for working adults, to creating a positive business climate in our community, and helping those citizens who may need a little assistance.  I am especially interested in seeing that Clarksville gets their fair share for programs to help our citizens.  I think I am in a position to help influence policy and make Tennessee a better place to live and work. "
Biographical Information
Name:  Curtis Johnson
Occupation:  Small Business Owner
Age:  61
Education:  Graduated Clarksville High School; B.B.A., Austin Peay State University; Tennessee School of Banking; and Leadership Clarksville, Class of 1993.
Community Service:  Past President, Association of the U. S. Army, TN/KY Chapter; past president, Austin Peay Alumni Association; past president, Clarksville Shrine Club; and former president, Austin Peay Governor's Club.
Awards and Honors:  Clarksville Jaycees Boss of the Year; Department of Army, Commanders Award for Public Service; and United States Department of Defense Certificate of Appreciation.
Current Service in Public Office:  House of Representatives Speaker Pro Tempore 2013-14; Member, Tennessee General Assembly, 2005 to present; Member of the House Finance, Ways, & Means Committee, House Government Operations Committee, House Insurance and Banking Committee and Subcommittee, and House Calendar & Rules Committee.
Past Service in Public Office:  Clarksville City Council, 1994-2002; Mayor Pro Temp 1996-1997.
Family:  Wife, Marsha, a schoolteacher for over 36 years, three sons, three grandchildren.
Sections
Politics
Topics
APSU, Austin Peay State University, CHS, Clarksville City Council, Clarksville High School, Clarksville TN, Curtis Johnson, Fort Campbell, Fort Campbell KY, Governors Club, Leadership Clarksville, Montgomery County, Speaker Pro Tempore of the House, Tennessee, Tennessee House of Representatives District 68, Tennessee School of Banking, Tennessee State Legislature, Tennessee State Representative