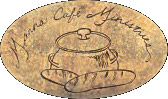 Clarksville, TN – Manna Café Ministries is holding "Grits and Gravy," a fundraiser breakfast sponsored by Align MD and Riverview Inn, on June 19th from 7:00am to 9:00am at Riverview Inn (50 College Street).
Guest speakers will include Tennessee State Senator Mark Green and State Representative Joe Pitts.
Tickets are $20.00 and can be acquired at 1319 East Franklin Street or by calling Jaemi or Shawna at 931.933.0970.
All proceeds will fund the mission of Manna Cafe.
Manna Café Ministries is a faith-based organization devoted to meeting the needs of homeless and low-income families in Montgomery County.
Each week, Manna Café provides food boxes to more than 1,700 local citizens per month and serves four hot meals a week. All funds raised will remain local and assist Clarksvillians in need.