Written by Sgt. Eric Lieber
Fort Campbell Warrior Transition Battalion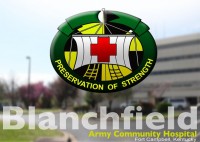 Fort Campbell, KY – "This is the first of its kind in Army Medicine" proclaimed Blanchfield Army Community Hospital chief of nutrition care Lt. Col. James Pulliam as more than 20 volunteers used pickaxes, post hole diggers and shovels to break ground May 23rd for a therapeutic garden at the Fort Campbell hospital.
After years of planning, Pulliam, BACH staff and horticultural expert Dana Chango, set their plans in motion to create the first therapeutic horticultural program and garden at an Army medical facility.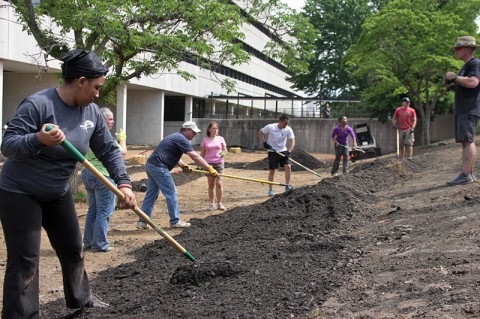 Pulliam explained that the garden was designed to provide a low maintenance, edible landscape that will provide wounded, ill and injured Soldiers and their Families a place near the hospital where they can find serenity in therapeutic gardening.
Aaron Cornett, occupational therapy assistant with the Warrior Transition Battalion, said that the OT team offers Soldiers horticultural therapy at another garden near Fort Campbell's Werner Park and he has seen how therapeutic the activity can be.
"One Soldier came to us a little withdrawn," said Cornett. "We figured out that he really liked to garden and, once we got him in the dirt, he literally bloomed. He would come in and garden even on his own time. By the time he transitioned out of the Army, it seemed like he had successfully reintegrated back into the community."
"I think it's important for Soldiers to have a nice place to go and relax," said volunteer Sgt. Matthew Ellis, a Soldier with 1st Squadron, 33rd Cavalry Regiment, 3rd Brigade Combat Team, 101st Airborne Division. Ellis, who recently started a garden in his own backyard, said he felt it was important to donate his time to help build the new hospital garden for other Soldiers after personally recognizing the benefits of gardening.
"It's just relaxing for me to do," said Ellis. "My Family comes out to help in the garden and they enjoy it too."
Not only will the garden be a place for Soldiers and patients to relax and heal, but nearly 80 percent of the healing garden will grow organic fruit and vegetable plants to be used in the hospital dining facility for patients, staff and visitors.
The BACH nutrition care division will also use the garden as an educational tool.
"During the past 20 years, processed food has become so common in this country that many people don't know where their food comes from," said Pulliam.
He explained that the garden will be a great way to teach patients where food comes from and educate them about the high nutritional value of fresh local produce.
"Think about the legacy of what you are creating," said BACH commander Col. George N. Appenzeller. "Lt. Col. Pulliam and the volunteers here today will be remembered for helping bring this healing garden to our hospital and the Fort Campbell community. This is what BACH is all about."
Pulliam explained that the healing garden embodies the Army Surgeon General's Performance Triad of sleep, activity and nutrition.
"Sleep comes a little easier after a hard day of work, gardening is a good source of activity and the nutrition pillar of the triad will be fulfilled as we incorporate these fruits and vegetables into our dining facility menu," said Pulliam. "In addition, we hope that this healing garden provides the community a centralized gathering place where people can come together to find peace and relaxation in the midst of a beautiful landscape."
Photo Gallery