Month-long celebration highlights value of Parks and Recreation for local communities


Clarksville, TN – If you're feeling cramped and like you don't get to spend enough time outside, you're not the only one.
Nearly three in 10 U.S. adults do not spend time outside on a daily basis and of those who do, almost half spend less than 30 minutes in the fresh air according to a new survey released by the National Recreation and Park Association (NRPA) and conducted by Ipsos Public Affairs.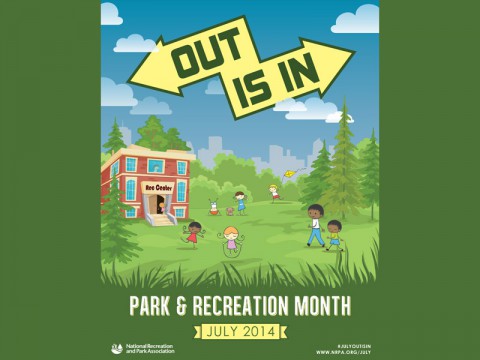 That's why this July, Clarksville Parks and Recreation and NRPA are challenging everyone to get out and visit their community parks and recreation during national Park and Recreation Month.
This year's theme, "OUT is IN," encourages individuals, families, friends and coworkers to do something outside everyday that they would normally do inside. From picnicking in the park instead of sitting inside at a table to sending an email or even holding a meeting outside, there are small ways you can make going OUT part of your daily routine.
The parks and facilities run by Clarksville Parks and Recreation offer ample opportunities to go OUTside, get INspired, change your OUTlook and get INvolved.
"You know, Clarksville is a very diverse community and it's great to know that so many of our population has access to a diverse variety of parks, greenways and other types of green space outdoors," said Clarksville Parks and Recreation Director, Mark Tummons. "Our wonderful Blueway, the newly opened North Ford Street Mountain Bike trail, the Greenway, trails, our Riverwalk – all just beckon for Clarkvillian's to get outdoors. I see many more people these days riding their bikes, walking, jogging, fishing and swimming. We are becoming healthier by the day and having citizen's support these projects is vital to the continual development of parks and facilities they desire. So this month – get outdoors and enjoy!"
Clarksville Parks and Recreation will celebrate Park and Recreation Month through encouraging the public to get outdoors and visit our parks, sign-up for our programs, and attend our events.
In addition to getting involved in Park and Recreation Month locally, people are encouraged to take the OUT is IN 31-day social media challenge on Twitter and Instagram by posting photos of themselves doing typical inside activities outside with the hashtag #JulyOUTisIN.
To learn more about getting OUTside and INvolved during Park and Recreation Month, visit www.cityofclarksville.com/outisin and www.nrpa.org/July
About NRPA

The National Recreation and Park Association is a national not-for-profit organization dedicated to advancing park, recreation and conservation efforts that enhance quality of life for all people. Through its network of 40,000 recreation and park professionals and citizens, NRPA encourages the promotion of healthy and active lifestyles, conservation initiatives and equitable access to parks and public space. For more information, visit www.NRPA.org
For digital access to NRPA's flagship publication, Parks and Recreation, visit www.parksandrecreation.org