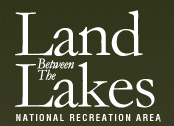 Golden Pond, KY – The jetty next to the boat ramp at Fenton will be closed to foot and vehicle traffic on Friday, July 11th; Monday, July 14th; and Tuesday, July 15th. It will be open over the weekend for fishing access. Large vegetation will be removed from the jetty during this time. The boat ramp will remain open.
"Tree roots can damage or break a jetty apart over time, so we are removing them now to protect the integrity of the jetty," says Gary Hawkins, Recreation Specialist at Land Between The Lakes.
Land Between The Lakes National Recreation Area manages more than 170,000 acres in western Kentucky and Tennessee as part of the Forest Service, U.S. Department of Agriculture's public lands program.
Land Between The Lakes offers outdoor recreation, lake access, land management, and environmental education to over 1.4 million visitors annually.
The Friends of Land Between The Lakes works in partnership with the Forest Service providing program services, funds development, and volunteer support.
To find more information about Land Between The Lakes, log on to the official website at www.landbetweenthelakes.us or call toll-free at 1.800.LBL.7077 or local at 270.924.2000.
For more information on the Friends of Land Between The Lakes, log on to www.friendsoflbl.org. To subscribe to the official electronic newsletter, send an email to LBLinfo@fs.fed.us.
Land Between The Lakes official Twitter accounts include @LBLScreechOwl, @LBLNature, @LBLHomeplace, and @LandBtwnLakes.
USDA is an equal opportunity provider and employer.