Clarksville, TN – The City of Clarksville's Parks and Recreation Department, Alicia's Complete Holistic Petcare, and Gateway Realty/A+ Property Management introduced Fun with Fido, a new, event series to promote an active lifestyle for you and your four-legged family member in June.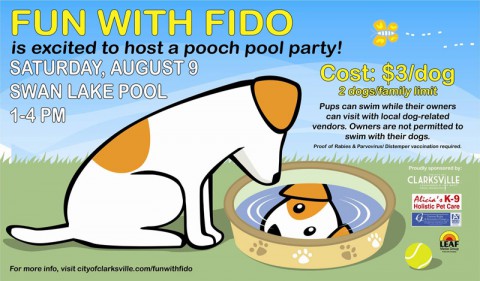 The series will continue its season with a pooch pool party Saturday, August 9th from 1:00pm to 4:00pm at Swan Lake Pool, 2002 Sanders Drive.
Dogs will be able to take a dip in the pool and their owners can visit with dog-related businesses and organizations from around town.
Admission is $3.00 per dog, with a limit of two dogs per family. All dogs must be at least 6 months old and have proof of current vaccinations (rabies and parvovirus/distemper) to participate.
People are not allowed in the large pool during the party, but will be able to wade in the baby pool with their dogs. Lifeguards will be on-site and ramps will be available to provide dogs with easy access to the pool. Dogs must be on leashes when they are out of the water.
Registration is easy! Register on-site at the event or download the event registration form online at www.cityofclarksville.com/funwithfido and bring with you!
Additional 'Fun with Fido' events include a shopping event at the Clarksville Downtown Market on September 20th and then the final event of the series at King's Run Bark Park at Liberty Park on October 11th.
Special thanks to our sponsors: Alicia's Complete Holistic Petcare, Gateway Realty/A+ Property Management and the Leaf Chronicle.
For more details on Fun with Fido, please contact the Clarksville Parks and Recreation at 931.645.7476 or visit www.cityofclarksville.com/funwithfido