Montgomery County, TN – Two back-to-back events will be held Saturday in honor of fallen Montgomery County Sheriff's Office Deputy David "Bubba" Johnson.
First, the Inaugural Bubba Johnson Memorial 5K Road Race begins at 8:30am Saturday, July 19th beginning at The Montgomery County Historic Courthouse, Clarksville, TN. There is also a 1-mile "fun run-walk" that will begin and end at Clarksville First Baptist Church.
"When this idea was first brought up, I thought it was a great way to remember a fallen member of our MCSO family," said Sheriff John Fuson. "The community support, as far as sponsors and members of the Clarksville Police Department, Clarksville Fire Rescue, Emergency Management, and Emergency Medical Services looking to help and participate, is incredible."
Because of public interest in this race, the registration deadline has been extended to July 13th at midnight. You can register online by going to the www.active.com website and entering "Bubba Johnson". Race information can also be obtained on the Bubba Johnson Memorial 5K Road Race facebook page.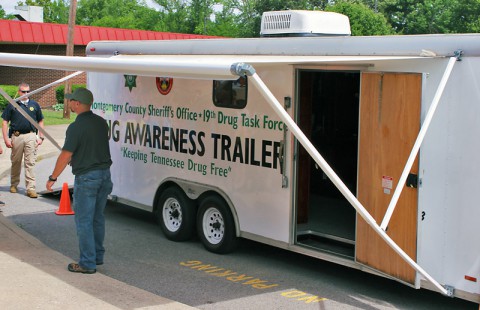 The race is expected to reach its max capacity of 300 runners, but the community is welcome to come out and cheer on the participants for this event, which will help to fund a trip to the National Law Enforcement week in Washington, D.C., where the Johnson family will participate in programmed events, including the unveiling of Deputy Bubba Johnson's name on the National Law Enforcement Memorial Wall.
Saturday Events
Inaugural Bubba Johnson Memorial 5K Road Race
Saturday, July 19th
8:30pm
Runner's Hub
127 Franklin Street
Clarksville, TN.
---
Deputy David "Bubba" Johnson Community Outreach Day 2014
Saturday, July 19th
10:00am to 3:00pm
First Baptist Church of Clarksville
435 Madison Street
Clarksville, TN.
"Even though it is an inaugural race, I knew it would be successful," said Investigator Jeffrey Morlock, one of the organizers of the event. "But the community participation in the name of Bubba and his family has exceeded expectations."
GarlandsGotIt.Com sponsors the event in partnership with the Tennessee Army National Guard.
"We are humbled to do whatever we can to help honor Bubba's sacrifice and service to our community," said O.B. Garland, owner of GarlandsGotIt.Com. "I think this is going to be a fun race and we are excited to be a part of it."
Where the race ends, at Clarksville First Baptist Church, the Montgomery County Sheriff's Reserves are hosting a family event from 10:00am to 3:00pm in honor of Bubba.
"We're going to have inflatables for the kids, balloons, free hot dogs, popcorn, cotton candy and drinks, a train for the kids, door prizes, face painting and more," said Lt. Brian Prentice, who is in charge of the Reserves. "There's plenty to do for adults as well. It's all free, and we just want everyone to come out and have a good time with us."
Of the door prizes, participants will have the chance to win a guitar signed by a country music star.
Kids will get a chance to see several of the functions of the Sheriff's Office, including the bomb squad, the K-9's and the drug awareness trailer from the 19th Judicial District Drug Task Force.
The Reserves would like to thank sponsors Mary's Music, Hill Top Market, The Car Dealers Association, Wyatt-Johnson, Wendy's and Bridgestone Metalpha.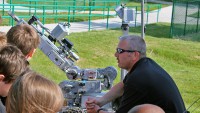 "We hope that the community that has shown so much love for Bubba and his family will come out and enjoy the day with us in his honor," said Fuson. "We know everyone will have a good time, and get to learn a little more about us."