Montgomery County, TN – Tennessee Representative Joe Pitts presented a House Joint Resolution Monday recognizing the Silent Witness Project to Montgomery County Sheriff's Deputy Peggy Macias and Sheriff John Fuson.
The Silent Witness Project started in Minnesota in 1990, and Macias worked hard to help bring the project here to Montgomery County.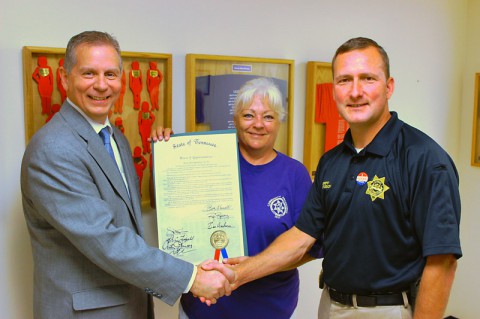 "It may have been created for the first time in 1990, but the message is timeless," Macias said.
Through this program, silhouette cutouts are created representing the victims who lost their lives due to domestic violence. Each silhouette tells the victim's story.
"The simplicity of the display is powerful," Pitts said, adding that when the project was brought to the Legislative Plaza in Nashville recently, it had a profound effect. "I know it spoke to those who saw it."
He added that through their work with the project, Fuson and Macias help raise awareness of domestic violence and the tragic endings that can come from it.
"Although we are happy to receive this resolution, we must always remember the sadness and suffering of these victims and their families," Fuson said. "Also, from a law enforcement perspective, it's our job to bring these issues to the forefront, not only to our community, but to our legislative bodies as well."
Macias said that preparations are already being made for the next Silent Witness Project event, to be held October 11th in Veteran's Plaza, and will again encourage the community to "Remember My Name," in regards to the victims of domestic violence.
Last year, 18 silhouettes were created, and 14 more will be added to the display. All represent someone killed in our community.
There will be a silent auction to benefit Safe House, as well.
Macias said that anyone wishing to set up an exhibit or wishing to participate in the event should contact her at 931.648.0611 ext. 13400.