Clarksville, TN – What better way to cool off this summer than with a little fishing at the pool?
That's right! Clarksville Parks and Recreations will be hosting the second-annual Special Needs Fishing Derby at the Bel-Aire Pool located at 124 Marie Drive, on Saturday August 23rd from 8:00am to Noon.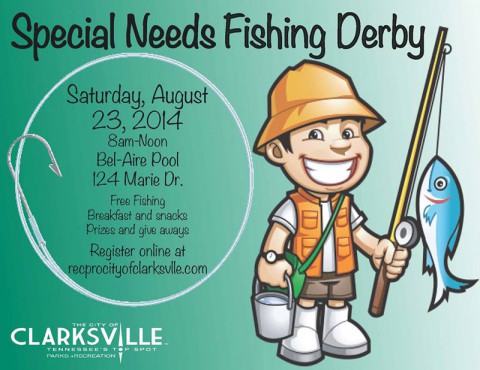 The Special Needs Fishing Derby will give those with mental or physical disabilities the exhilarating experience of catching live fish straight out of the water.
Children and adults ages 5 and older, and their families, are welcome to attend and participate.
The event is free and includes breakfast and snack items along with prizes and giveaways. Fishing poles will be available onsite, but participants may bring their own pole if they choose.
Pre-registration is now available online at recpro.cityofclarksville.com
For more details on the Special Needs Fishing Derby, please contact the Clarksville Parks and Recreation at 931.645.7476 or visit www.cityofclarksville.com/aquaticevents