Clarksville, TN – Austin Peay State University head coach Gary McClure announced Derrick Dunbar has been elevated to a full-time assistant coach and Greg Bachman will join his staff as a volunteer assistant coach, both effective August 1st.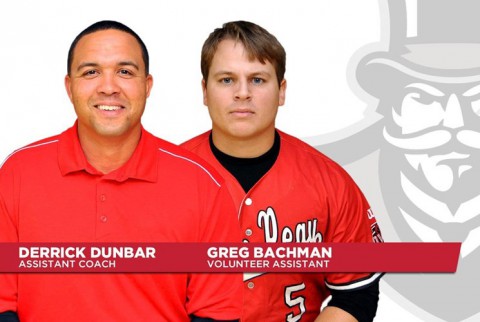 Dunbar, a 2003 Austin Peay alumnus, recently finished his fourth season as a part-time assistant with the Governors.
He will be elevated to full-time status, August 1, giving Austin Peay two full-time assistant coaches – joining assistant coach Joel Mangrum.
"I am excited Derrick has officially become a full-time coach," said McClure. "He has been with our program the last four years on a part-time basis, although he put in the time and effort of a full-time employee. He is a great person and has been fully committed to making our program better."
During his Govs tenure, Dunbar has been the hitting instructor and worked with the team's outfielders. In addition, he has been the team's operations manager and assisted with player placement on summer collegiate-level leagues.
He has coached the program's first Player of the Year (Craig Massoni) since 1996 and five players who have surpassed 200 career hits during his tenure.
Preaching patience at the plate, Dunbar has seen the Govs finish among the Top 60 in on-base percentage nationally in each of the first three seasons the NCAA has included the statistic among its national rankings.
"In his four years here Derrick has been instrumental in our baseball program winning three-straight OVC titles and going to three NCAA Regionals," McClure said. "Derrick will continue to be our hitting coach and work with the outfielders where he has done a great job."
Bachman, a 2012 Austin Peay graduate, begins a new phase in his baseball career after recently retiring from playing professional baseball in the Frontier League. He joins the Govs as a volunteer assistant and replaces Skyler Barnett, who accepted an assistant coach position at Carson-Newman.
"I am also excited to be bringing back Greg, one of the best players to wear the Austin Peay uniform, as our volunteer assistant," said McClure. "I have always said Greg has an excellent understanding and feel for the game and he is the perfect fit for our program and coaching staff."
Bachman, an infielder while with the Govs, ended his collegiate career as the program's all-time hits leader (276), erasing current Dodgers catcher A.J. Ellis from the top of the list.
He held the hits record for just one season, but remains the program's career leader in runs batted in (188), doubles (62) and total bases (444) while ranking second in six other categories, including hits, home runs (34) and games played (228).
Twice named second-team All-OVC, Bachman capped his Austin Peay career by being named the 2012 OVC Tournament's "Most Valuable Player." He went on to be named to the NCAA Tournament's Eugene All-Region team. Bachman batted .538 during that postseason with 21 hits in nine games –the finest postseason performance in program history.
"I have tremendous trust in Greg's ability to work with our players and taking over the coaching details he will be given," said McClure. "Greg was instrumental in our 2011 and 2012 squads winning conference championships and having the kind of success we experienced in the NCAA Regionals."