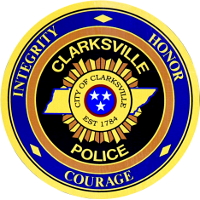 Clarksville, TN – Clarksville Police Department's Field Training Officer Bradley Holder was recognized for exceptional service on Tuesday, July 29th, 2014. The Award from the staff at the Riverside Drive branch of Regions Bank was given to show their appreciation in apprehending the suspect who attempted to rob their branch on June 20th, 2014.
"Officer Holder's actions in the immediate wake of a violent robbery were remarkable. Thanks to his bravery and professionalism in a very dangerous situation," said Richard Glasgow, Regions Corporate Security. " The suspect was quickly apprehended without harm to any of our branch associates or customers. We're extremely proud to present Officer Holder with the Corporate Security Director's Award, in recognition of his commendable actions.""
On the day in question the subject robbed Regions Bank on Riverside Dr. at gunpoint,  and then fled on foot. FTO Holder decided to get behind the Big Lots store, to see if the suspect would run that way. When suspect ran in his direction,  Officer Holder yelled for him to surrender. The suspect swung his arm out with a gun in his hand. FTO Holder immediately recognized the threat and engaged the suspect. The suspect pulled his weapon back behind cover and then threw it out so FTO Holder could see that he had disarmed himself.
During the encounter FTO Holder maintained his composure and commanded the suspect to comply and surrender. He was able to get the suspect into custody without any further incident.  The suspect then gave a verbal confession.
Given the high risk, high-stress situation; FTO Holder did an exceptional job. He maintained his professionalism and emotions to be able to know what a deadly threat situation was, and knew when it was time to change tactics and go into arrest mode. FTO Holder is a credit to the Clarksville Police Department and the Clarksville community.
Sections
News
Topics
Clarksville Police Department, CPD, Regions Bank