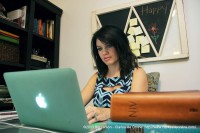 Clarksville, TN – You probably don't know this about me but I lived in low-income housing of Cleveland, Ohio when I was a small child.
I didn't feel poor. I don't remember anyone complaining about not having enough. I do remember lots of bologna, egg noodles and liver. Ketchup was our only condiment. I also remember never throwing away antibiotics until every last drop was gone even though the instructions clearly stated that you should finish and discard.
But mostly, I remember my neighbors. They were like family.
We would catch fireflies together and have snowball fights. A lady a few doors away would cut our hair on her front stoop.
When I got stung by a bee, a neighbor rushed me home, then made a paste out of mud and spit and applied it to my leg.
Several neighbors cheered me on when I learned to ride my banana seat bike, and at least three jumped up to rescue me when I ran that green and yellow flea market find into a huge thorn bush.
I am not going to tell you that times have changed. I am not going to tell you that people are remiss at jumping to one another's aid. But I will challenge you to think about this: With our friendship circles ever expanding and our sphere of influence (and thus social opportunity) increasing by the "like", re-tweet and double tap, is it possible that we are overextended?
I am not a social media super hero. But even I have around 1500 "friends" on FB. I know where they vacationed and even when their child went in for medical tests, but I might not know them in the local doughnut shop. And even if I did recognize them, and they were struggling, would I have time for them? I mean with 1500 "friends" how much time can I really give them?
Now I know what you are thinking: It's just Facebook. We don't have to hang out with everyone. We don't have to be everyone's best friend. But I would hypothesize that when someone expresses a need publicly, and they don't get the help they need, they might feel worse than if they had never shared it at all. If I had been stung by a bee, and people carried on business as usual, I would have felt hurt, maybe even abandoned.
When I was a preteen, the biggest "talk" was the our parents had with us was the sex talk. Our parents (if they did their due diligence) had at least a conversation or two about human sexuality. Now the biggest talk I feel that I need to have with my kids is about social responsibility. I worry about what my kids will say online, what behaviors then will condone or perpetuate, or what cries for help they might miss. I don't want to freak them out and put the weight of the world on their tiny shoulders, but with all of this social media power comes great responsibility.
Through social media, I have received a lot of prayer requests. I have also gotten a lot of feedback about my blog and encouragement to "keep it up." I have received more than one message from someone threatening suicide. This isn't just Facebook. This isn't an online SIMS game. It's real. The people are real, the feelings are real and their needs are real.
I am not saying that you need to accept everyone's friend request that comes through. In fact, if might be kinder if you didn't. If you don't have time to offer prayers or encouragement when someone needs it because perhaps you are too busy collecting likes and trying to take your social media presence to the next level, maybe you need to take it all down a level or two.
And if being on social media feels like a burden to you, and you can't seem to pull away or find time for more enjoyable face to face interaction, for your own sake, you might consider downsizing your social media life.
I learned this in the projects over 30 years before I joined any social media sites: neighbors are there for each other. They jump up when you are hurt, they stop their idle chatter, and they put salve on your wounds. In all of this online social interaction, why should anyone have to feel so alone?