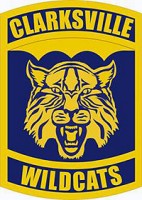 Paducah, KY – Clarksville High School's girls golf team remained undefeated on the season, as they won the Paducah Tilghman Invitational Golf Tournament August 2nd at the Paxton Park Golf Course.
The Lady Wildcats, who won the invitational for the second straight year, finished with a 319 team total —- defeating 12 other teams –—- including runner-up Marshall County (KY) by 11 strokes.
Sophomore Mariah Smith led Clarksville High with a score of three-over 74, earning a spot on the all-tournament team.
Junior Breana Smith followed with 79, with senior Ally Smith and sophomore Riley Cooper rounding out the team scoring with a pair of 83's.
Freshman Cameron Waltman also participated in the tournament, shooting an 83, as an alternate.