Austin Peay Sports Information Office

Clarksville, TN – Austin Peay State University women's basketball coach Carrie Daniels has added former graduate assistant Seth Ralston to her coaching staff, effective immediately.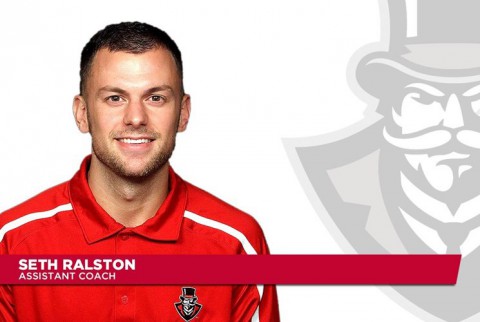 Ralston, who was with the Lady Govs last season, will join the Lady Govs staff in a full-time capacity and will primarily be responsible for administrative and operations duties. He also will assist with recruiting, scouting and on-court instruction. Ralston replaces Dean Walsh who left after the completion of the 2013-14 season.
"I am excited to have Seth join our staff," said Daniels. "Obviously he is familiar with our program, staff, players, and this university having served as our graduate assistant this past season. He proved himself during this year that he has a very strong work ethic, is loyal, and will do whatever is needed to help this program to achieve its goals. I look forward to Seth hitting the ground running and it being a smooth transition for him and our entire program."
Ralston, a 2013 Western Kentucky graduate, worked with both the men and women's programs as a manager during his collegiate career. He was the men's manager his first two seasons before being named head manager of the women's program in his final two seasons. In addition, he worked camps at Tennessee Tech, Mississippi State and Virginia Commonwealth among others.
"I am extremely excited about the opportunity to join Coach Daniels' staff and use my unique abilities to contribute to the success of this Lady Govs basketball program," said Ralston. "As the graduate assistant last season, I was able to evaluate our team from a different perspective. After countless hours of watching our team through film breakdown and working behind-the-scenes, I come into this new role with a well-rounded knowledge of each individual player and our team philosophy and playing style."