Our 125th meeting.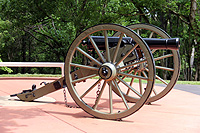 Clarksville, TN – The next meeting of the Clarksville (TN) Civil War Roundtable will be on Wednesday, August 20th, 2014 at the Bone & Joint Center, 980 Professional Park Drive, right across the street from Gateway Medical Center. This is just off Dunlop Lane and Holiday Drive and only a few minutes east of Governor's Square mall.
The meeting begins at 7:00pm and is always open to the public. Members please bring a friend or two – new recruits are always welcomed.
Topic: "Brandy Station: North America's Largest Cavalry Battle"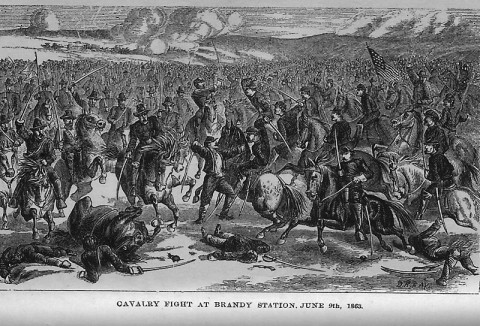 The Union Cavalry spent the first two years of the Civil War getting drubbed time and again by their Confederate counterparts.
Part of the reason was that Confederate cavalry regiments massed into brigades and then divisions well before the Federals did. Another part was better leadership.
This was pretty much the stakes in the East and the West as rebel troopers bested their foes and cut supply lines with near impunity. But in early 1863, things began to change. The Federals began to mass cavalry and get in better leadership and started going after the rebel horsemen with more aggression.
While some battles were still lost, the Federals got better and gained valuable experience. This culminated in June 1863 in two battles; Shelbyville, TN in the west and Brandy Station in the east.
The largest cavalry battle ever fought on the North American continent occurred on June 9th, 1863. The Battle of Brandy Station was the opening engagement of the Gettysburg Campaign, and it had far-reaching and unforeseeable consequences for the outcome of that campaign. 21,000 cavalrymen, 1000 horse artillerists, and 3000 Union infantry spent 14 hours slugging it out that day, and at the end of that long day, the balance had shifted.
Never again would the insulting jest "who ever saw a dead cavalryman" be directed at the Army of the Potomac's Cavalry Corps, which came of age that warm June day.
Eric J. Wittenberg is an award-winning Civil War historian whose specialty is cavalry operations. He is a native of southeastern Pennsylvania, and is an alumnus of Dickinson College and the University of Pittsburgh School of Law. He is a practicing attorney who has published seventeen books and dozens of articles on the Civil War to date, winning awards for his work.
His new work, The Devil's to Pay: John Buford at Gettysburg. A History and Walking Tour will be published by Savas-Beatie, LLC at the end of September. He regularly works with the Civil War Trust on projects to preserve cavalry battlefields, and is in demand as a speaker and tour guide.
He is a member of the Governor of Ohio's Advisory Commission on the Sesquicentennial of the Civil War. He and his wife Susan and their three golden retrievers live in Columbus, Ohio.
Please help us welcome Eric back for his return engagement at the Clarksville CWRT.