Tennessee Titans (1-1) at Atlanta Falcons (1-1)
Saturday, August 23rd, 2014 | 6:00pm CDT
Atlanta, GA | Georgia Dome | TV: WKRN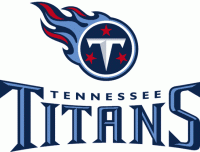 Nashville, TN – The Tennessee Titans (1-1) continue their preseason schedule this week with a trip to face the Atlanta Falcons (1-1). Kickoff at the Georgia Dome (capacity 71,228) is scheduled for 7:00pm EDT/6:00pm CDT on Saturday, August 23rd.
The trip to Atlanta could be the last chance for some to make a lasting impression. By 3:00pm CDT on August 26th, the roster must be trimmed from a maximum of 90 players to 75. The final cut to 53 players occurs on August 30th.
This week's game reunites the two squads less than three weeks after holding a joint training camp practice. The Titans traveled to Flowery Branch, GA, for an afternoon at the Falcons' training facility on August 4th.
The game will be televised regionally on the Titans Preseason TV Network, including flagship WKRN-Channel 2 in Nashville. Cory Curtis will handle play-by-play duties while former Titans quarterback Kerry Collins provides analysis. Audra Martin will report from the sidelines.
The Titans Radio Network, including Nashville flagship 104.5 The Zone, will broadcast the game across the Mid-South with the "Voice of the Titans" Mike Keith, analyst Frank Wycheck, gameday host Rhett Bryan and sideline reporter Jonathan Hutton.
Tennessee Titans Last Week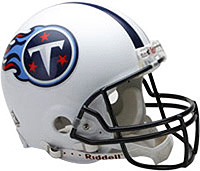 After winning their preseason opener at home against the Green Bay Packers, the Titans were on the road last week to play the New Orleans Saints.
Quarterbacks Jake Locker and Zach Mettenberger combined to pass for 344 yards and three touchdowns, but five Titans turnovers proved too costly in an eventual 31-24 defeat.
Locker and most of the starting offense played into the second quarter. Locker, who is beginning his fourth NFL season, completed eight of 11 passes for 75 yards and a touchdown (121.4 passer rating).
Mettenberger took over late in the first half after backup Charlie Whitehurst left with a hand injury. A sixth-round draft choice from Louisiana State University, Mettenberger was 20-of-25 for 269 yards, two touchdowns and one interception (121.5 passer rating).
Locker and Mettenberger each connected on a touchdown pass with wide receiver Justin Hunter. Hunter, a second-round draft choice in 2013, totaled 111 yards on four catches, becoming the first Titans player to record 100 yards receiving in a preseason game since Justin McCareins in 2001 (109 at Detroit, August 30th).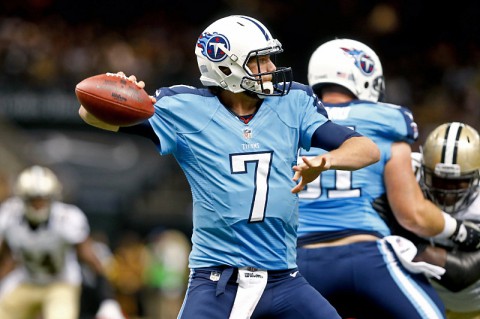 This is the first preseason for Ken Whisenhunt on the Tennessee sideline. He became the 17th head coach in franchise history and the third in the "Titans era" on January 13th.
A former Georgia Tech walk-on and an assistant at Vanderbilt University from 1995 to 1996, Whisenhunt came to Tennessee with 17 years of NFL coaching experience and nine NFL seasons as a player.
Atlanta Falcons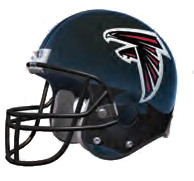 Like the Titans, the Falcons are off to a 1-1 start this preseason. They hosted the Miami Dolphins in their opener and won 16-10. Last week, they traveled to Houston and fell to the Houston Texans 32-7.
The Falcons are in their seventh year with head coach Mike Smith at the helm. Under his guidance, the team has produced four winning seasons and three playoff appearances. They were 13-3 in 2012 before battling through a 4-12 record in 2013.
Quarterback Matt Ryan arrived the same year as Smith and since then has set nearly every Falcons passing record. The two-time Pro Bowl selection has topped the 4,000-yard passing mark in each of the last three campaigns and has a franchise-best 23,472 career passing yards. In 2013, he threw for 4,515 yards and 26 touchdowns.
Ryan's top passing targets, wide receivers Roddy White and Julio Jones, have a total of five Pro Bowls between them (four by White, one by Jones).
Titans-Falcons Series At A Glance
Overall series (regular & postseason): Titans lead 7-6
Regular season series: Titans lead 7-6
Postseason series: None
Total points: Titans 306, Falcons 321
Current streak: One win by Falcons
Titans at home vs. Falcons: 5-1
Titans on road vs. Falcons: 2-5
Longest winning streak by Titans: 5 (1993-07)
Longest losing streak by Titans: 3 (1978-84)
Titans vs. Falcons at LP Field: 2-0
Last time at LP Field: Falcons 13 at Titans 20 (10/7/07)
Titans vs. Falcons at Georgia Dome: 2-1
Last time at Georgia Dome: Titans 17 at Falcons 23 (11/20/11)
First time: Oilers 10 at Falcons 20 (12/3/72)
Ken Whisenhunt's record vs. Falcons: 2-2 (including 1-0 in playoffs)
Mike Smith's record vs. Titans: 1-0
Ken Whisenhunt's record vs. Mike Smith: 1-2 (including 1-0 in playoffs)
Titans-Falcons Preseason Series
Preseason series: Series tied 4-4
Last time in preseason: Falcons 16 at Titans 23 (8/24/13)
Titans-Falcons Series History
After 13 meetings in the regular season, the Titans-Falcons series has trended toward Tennessee after initial dominance by the Falcons. Dating back to 1972, three seasons into the AFL-NFL merger, the Titans are 7-6 against the Falcons, including wins in five consecutive meetings from 1993 to 2007. The Falcons won four out of the first five contests from 1972 to 1984.
The Falcons began to reverse the recent trend, however, on November 20th, 2011, when they defeated the Titans at the Georgia Dome 23-17.
Matt Ryan passed for 316 yards and a touchdown, while Michael Turner rushed for 100 yards for the Falcons. It was enough to offset a late comeback attempt by Titans then-rookie quarterback Jake Locker, who completed a pair of second-half touchdown passes to Nate Washington.
The last time the Falcons visited the Titans in the regular season was Week 5 in 2007.
A 76-yard interception return for a touchdown by defensive back Vincent Fuller provided the winning margin in a 20-13 Titans win. Despite five Titans turnovers, Tennessee clung to victory by keeping the Falcons under 200 yards of total offense and by limiting the Falcons to 22 percent on third down. In the closing moments of the game, an athletic, leaping play at the one-yard line by Albert Haynesworth to force an eight-yard loss provided the game's signature moment.
Against the Falcons, the Titans are 2-0 at LP Field (opened in 1999) and 2-1 at the Georgia Dome (opened in 1992). However, perhaps the most notable Titans game to occur inside the Georgia Dome was not against the Falcons, but rather the St. Louis Rams in Super Bowl XXXIV. The Rams withstood a late rally by the Titans and held on to a 23-16 win.
This is the second consecutive preseason in which the Titans and Falcons have met in the third week. The Titans took last year's matchup at LP Field by a final score of 27-16. In eight all-time preseason games, the series is tied 4-4. The first preseason game ever played at LP Field was a 17-3 victory for the Titans over the Falcons on August 27th, 1999.
Titans-Falcons: The Last Meeting
Tennessee Titans 17 at Atlanta Falcons 23
Sunday, November 20th, 2011
Georgia Dome, Atlanta, GA
| | | | | | |
| --- | --- | --- | --- | --- | --- |
| | 1 | 2 | 3 | 4 | Final |
| Tennessee Titans | 0 | 3 | 7 | 7 | 17 |
| Atlanta Falcons | 7 | 6 | 10 | 0 | 23 |
The Falcons jumped out to an early lead and survived a late rally to defeat the Titans 23-17 at the Georgia Dome.
The Titans gave up 432 total yards to the Falcons, lost the time of possession battle by nearly 14 minutes (36:59 to 23:01) and were called for 10 penalties, many at inopportune moments. However, they were still in position late in the game to stage a comeback, led by rookie quarterback Jake Locker.
Titans starter Matt Hasselbeck, who completed 13 of 25 passes for 124 yards and one interception, suffered a right elbow injury in the third quarter. With the Falcons leading 23-3, Locker entered and threw a pair of touchdown passes to Nate Washington, the latter of which came with 3:06 on the clock in the fourth quarter.
Armed with three timeouts, the Titans kicked off to the Falcons, who took possession at their own 20-yard line after a touchback. On the next play, Falcons running back Michael Turner gained 27 yards, giving him 100 yards for the game. Then, on third-and-six from the Tennessee 49, Matt Ryan completed a six-yard pass to wide receiver Harry Douglas, allowing the Falcons to run out the clock.
Good early field position helped the Falcons build a quick lead. The Titans were forced to punt from deep in their own territory after their initial possession, and the Falcons took over on the Tennessee 44-yard line. Five plays later, Ryan found tight end Tony Gonzalez for a 17-yard touchdown pass.
On the Titans' second possession, a Hasselbeck pass intended for Lavelle Hawkins was intercepted by Falcons cornerback Dunta Robinson. The Falcons capitalized with a 19-yard field goal by Matt Bryant and added another Bryant field goal (33 yards) on their next drive.
The Titans saved their best offensive effort of the first half for the second period's final minute. They took over at their own 10-yard line with 1:01 on the clock and went 62 yards on seven plays. Rob Bironas' 46-yard field goal with two seconds remaining in the half cut the Falcons' lead to 13-3.
The Falcons took the opening kickoff of the second half and scored their second touchdown of the game, but only after they were helped by a key Titans penalty. On a seven-yard completion by the Falcons on third and-10, the Titans were whistled for illegal contact. Then, on successive plays, Ryan connected with Roddy White on a 43-yard pass and Turner rumbled into the end zone for a four-yard touchdown.
After Bryant added another field goal, this time from 24 yards, Locker took the field for the Titans. Assisted by a 49-yard kickoff return by Marc Mariani to set up the series, Locker completed a 40-yard touchdown pass to Washington on his third pass attempt, cutting Atlanta's lead to 23-10.
Following an exchange of punts, the Falcons appeared ready to thwart the Titans' hopes. They drove deep into Titans territory, when an offsides penalty was called on the Titans on fourth-and-one to set up a first-and goal.
But middle linebacker Colin McCarthy delivered a blow on Turner to knock the ball loose, and linebacker Will Witherspoon recovered the fumble.
Locker, who completed nine of 19 passes for 140 yards (107.3 passer rating), directed the offense on what would be Tennessee's final series of the game. He converted a fourth-and-17 with a 22-yard pass to Jared Cook and found Lavelle Hawkins for a 32-yard gain. Washington scored on a four-yard pass, but it would be the last time the Titans touched the ball.