Austin Peay Sports Information Office

Clarksville, TN – "Let youth be served" easily could have been Friday afternoon's theme as Austin Peay State University's football team ended contact work with its final scrimmage.
Freshmen wide receivers Malik Boynton, Jared Beard and Wesley Thomas particularly were impressive—Boynton made a one-handed 21-yard catch on one pass—while first-year tight end James Coleman also had large gain after a reception.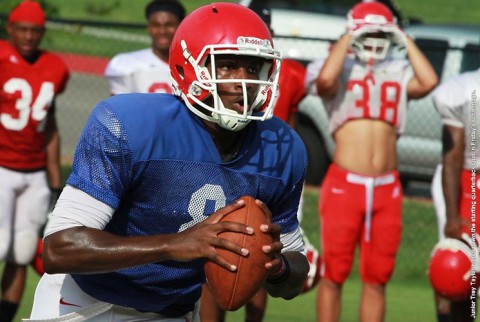 "We have some outstanding young players at the position," APSU coach Kirby Cannon said. "They have just a calm demeanor about them. I think can play against anybody right now and that is what they are going to need to do."
Boynton caught a pair of passes for 36 yards while Thomas hauled in one for 22 and Beard had an 18-yard catch. Coleman had one for 11 yards.
Junior quarterback Trey Taylor was the beneficiary of much of the receivers' production. After a lull during camp a week ago, the Cordova native reemerged as the starting quarterback, the position he held coming out of spring practice. Taylor finished the scrimmage an efficient 6-of-7 from 68 yards and a TD.
"I think Trey was just really in command of the play, really decisive in what he did and what he wanted to do," Cannon said. "I thought he played well."
In total four touchdowns were scored in the scrimmage, two passing and two on the ground.  The two receiving scores came from a pair of veterans, junior tight end Jacob Sexton, a former quarterback who  caught one short score, and the other from senior wide receiver Javier Booker.
Sophomore running backs Rashaan Coleman, Justin Roberson and Julian Franklin all impressed at running back—Coleman and Franklin both scored—while freshmen Kendall Morris and Otis Gerron also showed promise.
On the defensive side, freshmen also showed their worth. Cornerback back Jamel Jackson executed a picture-perfect pass breakup along the sideline while linebacker Benedict Louis had three tackles plus a pass breakup. And local freshman Jule Pace again collected a sack.
The defense's big play, however, also came from a veteran. Having worked his way back into the starting lineup at linebacker after being forced to play end a year ago because of injuries, junior Adam Noble picked off a Mickey Macius pass on the first scrimmage series.
"Adam has reasserted himself as a starter," Cannon said. "Zach Stuart has had an outstanding camp at linebacker and Antonio Turner is getting back to being as productive as he was last year.
"We really like our first group of defense. It is matter about getting some guys ready to give us some play so we don't lose our conditioning."
After losing Brad Wilmer to a broken leg in last Saturday's scrimmage, the Governors came out of Friday with no significant injuries. Cannon is excited to get the season started, 6:00pm, next Saturday at Memphis.
"One minute you think you need two more weeks of camp—the freshman certainly could use it—but as a team you get to a point where you know to get better, where you know your strengths and weaknesses, is in a game—we just need to play a game."