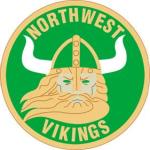 Clarksville, TN – The high school football season officially kicked off Friday night and the Northwest Vikings were one of six local teams who left Clarksville to play on the road for week 0. Under new head coach Vernon Wright and with new uniforms, the Vikings opened their 2014 campaign with a 27-13 victory over the Stewart County Rebels.
Steamy weather turned the game into a test of both tempers and conditioning. After battling to a 13-13 tie at halftime, Viking quarterback Markel Kea made a 1-yd run for the only touchdown in the third quarter.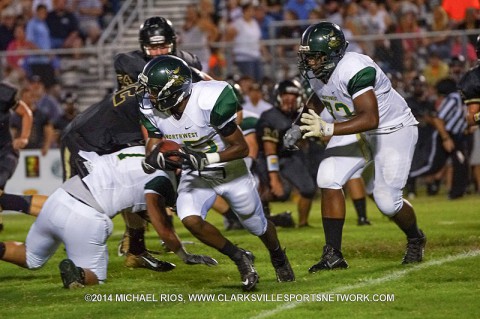 It was Kea's second touchdown of the game and turned out to be the game winner because the Viking defense made a crucial stand, keeping the Rebels from converting a first and goal series in the fourth quarter to tie the game.
Down 20-13, the Rebels were facing third down and 20 on the Vikings 36-yard line. A pass interference penalty called on the Vikings changed the situation to third down and short which the Rebels converted.
With momentum, the Rebels pushed all the way down to the Vikings 2-yard line for first and goal. But the Vikings defense stepped up with two consecutive tackles for losses. The second tackle caused a fumble the Rebels recovered, but were pushed back to the 10 yard line, facing fourth down and goal.
An incomplete pass by Rebel's quarterback, Timothy Clark turned the ball over on downs to the Vikings.
Clark had a tough night, completing only 1of his 12 pass attempts, none in the second half, with two interceptions.
After the defensive stop, the Vikings drove 90 yards on 12 plays and scored with a 1-yard touchdown dive by Micah Bennett with 3:48 left in the game, expanding their lead to 27-13.
The Vikings defense sealed the win by stifling the Rebels last two drives with an interception and forcing three incomplete passes.
Kea made 18 rushes for 89 yards, including his two touchdowns. His first touchdown was a 33-yard scramble that tied the game 6-6. Kea also completed 2 passes for 16 yards.
Bennett had 58 yards rushing and a touchdown. Jaedon Taylor had 68 yards rushing, including a 50-yard run that set up the Vikings second touchdown of the game.
Although he had trouble passing, Timothy Clark rushed for 87 yards and a touchdown. He capped off the Rebels 8-play, first offensive drive with a 6-yard dash to the end zone.
Tobias Clark led all rushers with 102 yards and a touchdown.
Next, the Vikings (1-0) will play a home opener against Todd County. The Rebels (0-1) will travel to play Houston County.
Box Score
| | | | | | |
| --- | --- | --- | --- | --- | --- |
| | 1 | 2 | 3 | 4 | Final |
| Northwest Vikings | 6 | 7 | 7 | 7 | 27 |
| Stewart County Rebels | 6 | 7 | 0 | 0 | 13 |
Photo Gallery