Clarksville, TN – On Friday, August 22nd, 2014, Tennessee Department of Transportation Commissioner John Schroer presented Clarksvile Mayor Kim McMillan with a check for 1.6 million dollars.
That was just one of the grants presented that will benefit Clarksville and Montgomery County.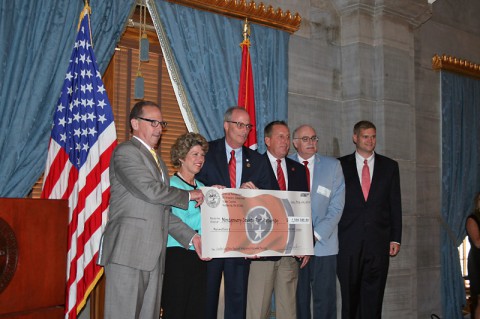 "Of course I was thrilled to receive this grant, not just because it's for a lot of money but, most importantly, because it will permit us to replace three aging diesel buses with three cleaner, heavy-duty hybrid-electric transit buses," said Mayor McMillan. "Not only will these buses reduce the environmental impact of the old ones, they will also improve our average fleet age by 18%. I want to congratulate Arthur Bing and the CTS team for a terrific grant proposal and for their continued leadership."
The Regional Transit Authority also received grant funds in the amount of almost $275,000 to expand the transit service between Nashville and Clarksville.
"The commuter bus service that we began a couple of years ago has been tremendously successful," said Mayor McMillan, Vice-Chair of the RTA. "We are now adding a fourth bus with an additional route in the morning and evening to and from Nashville."
The Mayor also joined a group from Montgomery County to receive another $1,000,000 in grant funds to expand the Cumberland River Waterway Intermodal Facility to connect rail, truck and barge traffic. One of the project partners on this grant application, R.J. Corman, is paying the $250,000 local match requirement.
The grants presented Friday were Congestion Mitigation and Air Quality Improvement (CMAQ) grants awarded to 11 communities across the state. The 31 grants will fund a wide range of transportation projects designed to reduce congestion and improve air quality.