APSU Sports Information Office

Nashville, TN – The Austin Peay State University women's cross country team opened their season in a meet stacked with talent-laden squads at Friday's Belmont Opener, hosted by Belmont at Percy Ward Park.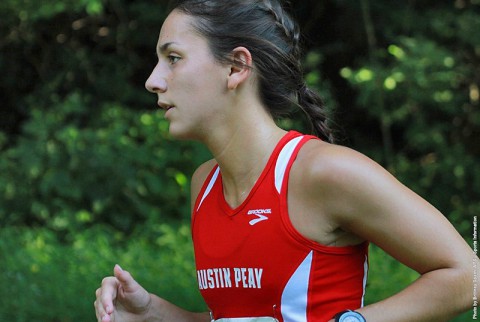 The Lady Govs claimed 11th place in the five-kilometer race, scoring 314 points, putting them ahead of Ohio Valley Conference foe Tennessee State (384).
Vanderbilt won the event with a score of 20 points, after a lengthy delay due to timing issues, and were followed by Kentucky (79) and Middle Tennessee State (105).
The Lady Govs were led by sophomore Molly Jordan who crossed the line with a time of 20:10.72 to finish 65th. The next two finishers for the Lady Govs were junior Alexis Eldridge (20:39.04, 76th) and freshman Becca Wheeler (20:49.70, 78th).
Rounding out the scoring five for the Austin Peay were senior Jessica Gray (21:11.27, 82nd) and freshman Sara-Emily Woodward (21:17.94, 83rd). Also competing for the Lady Govs were sophomore Alieha Romero (21:27.06, 85th) and freshman Sarah Carpenter (23:21.01, 102nd).
"This was a really good meet with good teams like Vanderbilt, Kentucky, and Purdue," said head coach Doug Molnar. "It was a quality test and we will improve as the season goes on.  We had a really solid effort today and we definitely learned some lessons that will benefit us later in the season."
The Lady Govs will return to the course next week at Chattanooga's Powerade Invitational at Moccasin Bend. Starting time is scheduled for 4:45pm. (CT)