Austin Peay Sports Information Office

Evansville, IN – A much cleaner offensive effort produced a positive result as Austin Peay State University's volleyball team won its first match of 2014 with a four-set win (25-23, 25-21, 22-25, 25-12) at Evansville, Tuesday, at the Carson center.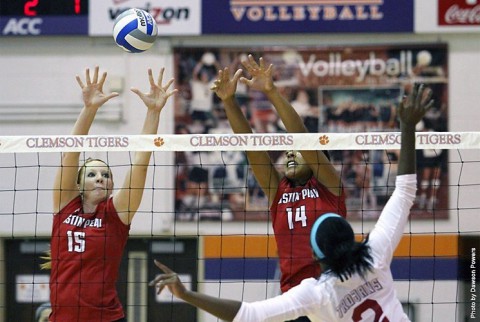 Just two days removed from an error-filled stay at Clemson, Austin Peay produced a quality offensive effort.
The Lady Govs recorded just 22 attack errors in the contest and notched a .231 attack percentage. Austin Peay entered the match hitting just .100 on the young season.
Individually, junior Sammie Ebright notched a personal season best with 13 kills in the win. Senior Liz Landon added 10 kills at a .500 attack percentage to the effort. Senior Hillary Plybon was credited with nine kills, but more importantly notched six blocks to lead APSU's nine-block performance.
"We really cut down on hitting errors and did a much better job blocking," said Lady Govs head coach Taylor Mott. "Our passers did a really good job in serve receive once again. It was great to get that first win under our belts."
The match itself was a fairly cut and dry affair with few lead changes. The first set featured five ties and two lead changes but there was only one lead change the rest of the match.
In the opening set, Austin Peay (1-3) faced a five-point, 22-17 deficit. Plybon notched a kill before Evansville handed the Lady Govs back-to-back points with attack errors, forcing an UE timeout. Out of the stoppage Landon recorded a kill to cut the deficit to one point.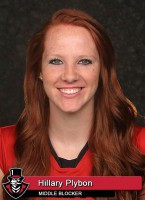 Evansville (0-4) stemmed the tide with Ashley Ring's kill, but Austin Peay responded with four straight kills – Ebright starting the rally, Landon adding back-to-back kills and junior Samantha Strother notching the set point – to complete the rally for the 25-23 win.
The second and third sets were wire-to-wire affairs. Austin Peay jumped out to a 6-2 lead in the second set and fended off a four-point run to cruise to the 25-21 win and a two-set lead.
After the break, Evansville jumped out to a 6-2 lead in the third set and held off a late Austin Peay run to post the 25-22 victory and extend the match.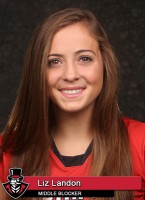 The fourth set was more of the same as Austin Peay raced out to a 9-3 lead thanks to a four-point run that featured kills by Ebright and junior Aubrey Marsellis. The Lady Govs lead reached 10 points, 20-10, with a four-point run later in the set and they never looked back.
Genesis Miranda and Ashley Ring each had 15 kills but that was the bulk of a 44-kill outing by the Evansville offense. The Purple Aces were the error-prone club Tuesday, committing 23 attack errors (.167 attack percentage), 12 service errors and four blocking errors.
Austin Peay continues its season-opening eight-match road trip, Friday-Saturday, at the Akron Invitational. The Lady Govs open with matches against Drake and Binghamton, Friday, followed by contests against Bryant and host Akron, Saturday.
Box Score
Austin Peay 3 vs Evansville 1
| Set Scores | | 1 | 2 | 3 | 4 | Team Records |
| --- | --- | --- | --- | --- | --- | --- |
| Evansville Purple Aces | (1) | 23 | 21 | 25 | 12 | 0-4 |
| Austin Peay Lady Govs | (3) | 25 | 25 | 22 | 25 | 1-3 |
Austin Peay (1-3)
Team Attack By Set
Set
K
E
TA
Pct
1
17
7
40
.250
2
15
4
40
.275
3
14
8
36
.167
4
9
3
27
.222
Total Team Blocks:9.0
LEADERS:

Kills-Aces-Blocks: EBRIGHT, Sammie (13-0-3); LANDON, Liz (10-0-2); PLYBON, Hillary (9-0-6); STROTHER, Samantha (8-0-2); STOTTS, Jada (8-1-1); MARSELLIS, Aubrey (7-2-2)
Assists: MARSELLIS, Aubrey (26); FIELDS, Cami (17); STOTTS, Jada (2); LANDON, Liz (1); PLYBON, Hillary (1); BALES, Lizzy (1)
Digs: BALES, Lizzy (14); STOTTS, Jada (12); STROTHER, Samantha (11); MARSELLIS, Aubrey (10); PLYBON, Hillary (3); FIELDS, Cami (3); WHITE, Christina (1)
Evansville (0-4)
| ## | Player | SP | K | E | TA | PCT | A | E | SA | SE | RE | DIG | BS | BA | Pts |
| --- | --- | --- | --- | --- | --- | --- | --- | --- | --- | --- | --- | --- | --- | --- | --- |
| 7 | Schreiber, Cathy | 4 | 2 | 3 | 15 | -.067 | 0 | 0 | 0 | 2 | 0 | 1 | 1 | 2 | 4.0 |
| 8 | Carter, Grace | 4 | 2 | 2 | 5 | .000 | 34 | 2 | 0 | 1 | 0 | 7 | 0 | 1 | 2.5 |
| 9 | Cerino, Stephanie | 4 | 7 | 4 | 23 | .130 | 0 | 0 | 0 | 0 | 0 | 2 | 0 | 3 | 8.5 |
| 10 | Holmes, Meaghan | 4 | 3 | 2 | 10 | .100 | 1 | 0 | 0 | 0 | 0 | 1 | 1 | 7 | 7.5 |
| 12 | Miranda, Genesis | 4 | 15 | 6 | 38 | .237 | 1 | 0 | 2 | 5 | 1 | 7 | 0 | 3 | 18.5 |
| 13 | Ring, Ashley | 4 | 15 | 4 | 32 | .344 | 0 | 1 | 0 | 1 | 0 | 6 | 0 | 2 | 16.0 |
| 1 | Deprez, Kim | 4 | 0 | 0 | 0 | .000 | 2 | 1 | 0 | 1 | 0 | 18 | 0 | 0 | 0.0 |
| 3 | Marquez, Lorena | 1 | 0 | 0 | 0 | .000 | 1 | 0 | 0 | 0 | 0 | 0 | 0 | 0 | 0.0 |
| 4 | Sloneker, Melanie | 1 | 0 | 0 | 0 | .000 | 0 | 0 | 0 | 0 | 0 | 0 | 0 | 0 | 0.0 |
| 5 | Cordero, Tathianna | 4 | 0 | 1 | 2 | -.500 | 1 | 0 | 1 | 0 | 2 | 13 | 0 | 0 | 1.0 |
| 11 | Schafer, Montana | 1 | 0 | 1 | 1 | -1.000 | 0 | 0 | 0 | 0 | 0 | 0 | 0 | 0 | 0.0 |
| 14 | Rosa, Lillian | 2 | 0 | 0 | 0 | .000 | 0 | 0 | 0 | 2 | 0 | 1 | 0 | 0 | 0.0 |
| | Totals | 37 | 44 | 23 | 126 | .167 | 40 | 4 | 3 | 12 | 3 | 56 | 2 | 18 | 58.0 |
Team Attack By Set
Set
K
E
TA
Pct
1
11
4
31
.226
2
14
6
34
.235
3
13
3
31
.323
4
6
10
30
-.133
Total Team Blocks: 11.0
LEADERS:

Kills-Aces-Blocks: Miranda, Genesis (15-2-3); Ring, Ashley (15-0-2); Cerino, Stephanie (7-0-3); Holmes, Meaghan (3-0-8); Schreiber, Cathy (2-0-3); Carter, Grace (2-0-1)
Assists: Carter, Grace (34); Deprez, Kim (2); Holmes, Meaghan (1); Miranda, Genesis (1); Marquez, Lorena (1); Cordero, Tathianna (1)
Digs: Deprez, Kim (18); Cordero, Tathianna (13); Carter, Grace (7); Miranda, Genesis (7); Ring, Ashley (6); Cerino, Stephanie (2); Schreiber, Cathy (1); Holmes, Meaghan (1); Rosa, Lillian (1)