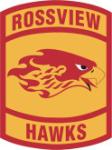 Clarksville, TN – Rossview High School's volleyball team almost saw a 2-0 lead disappear, Thursday, September 4th in its District 10-AAA matchup versus Northeast High School, but the Lady Hawks rallied to score eight of the final nine points in game four to come away with a 3-1 win be scores of 25-16, 25-19, 15-25 and 25-23.
After winning the first two games comfortably, the Lady Hawks (7-5, 4-2 District 10-AAA) saw the Lady Eagles come out quickly in the third game and score the first four points to never trail in the contest that they won by 10 points, 25-15.
"We came out early-on and did what we wanted too," first-year head coach Krystal Weber said. "We got out to that 2-0 lead playing our game.
"In the third set we got a little over confident and weren't mentality prepared and taking things seriously and that gave Northeast confidence and momentum to get back into the ballgame."
Makayla Coffey, who led the Lady Eagles with eight kills and four aces on the evening, had three kills in the key late run for Northeast that saw them score eight of the final 10 points to win the third game and cut the Rossview lead back to 2-1.
Rossview looked like it had regained its early-match form to start the fourth game, jumping out to a 6-2 lead behind three kills by Jessica Mattson, but Northeast rallied to tie the game 12-12.
Mattson would lead Rossview with 21 total kills.
The two teams would trade the next eight points before the Lady Eagles went on a run where they scored seven of the next eight points to go up 22-17 and put themselves into position to force a fifth game.
But Rossview would go on a 7-0 run – including two kills by Mattson and two aces by Keili Keoho – to retake the lead 23-22.
Keoho would lead Rossview with five aces, while also adding five kills.
Northeast would end the run to tie the game for the final time at 23-23, but the Lady Hawks would score the final two points – including a game-ending kill by Annie Black for the 25-23 fourth-game final margin.
"We really cleaned up our passes at the end to make sure we got the ball to our setter," Weber said. "Once we got the ball to our setter our hitters were able to do their job and play our game like we should be playing."
Rossview setter Macy Maynard totaled 31 assists in the match.
In the first two games, the two teams went back-and-fourth early on before Rossview would start to pull away during the midway point of the games and never really be threaten in taking a 2-0 lead.
Rossview and Northeast will return to action on September 5th and 6th as they will participate in the Beech High School tournament in Hendersonville, TN.