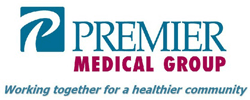 Clarksville, TN – Premier Medical Group is pleased to announce the addition of Dr. Di'Net Sintim-Amoah to their Pediatric department.
A native of Greenville, Mississippi, Dr. Sintim-Amoah studied at Spelman College in Atlanta and earned her medical degree from the Morehouse School of Medicine. She completed her pediatric residency at Morehouse School of Medicine Pediatric Residency Program in Atlanta.
Dr. Sintim-Amoah is a Fellow of the American Academy of Pediatrics. She has previously practiced pediatrics in Georgia and Tennessee.
When asked about the most rewarding aspect of her practice, Dr. Sintim-Amoah explains, "I have always wanted to be a pediatrician. I had a good doctor when I was young and I wanted to be one too.  The reward comes from knowing that I can make a difference in a child's life. Watching children grow and watching families grow keeps me motivated. "
How did Premier Medical Group attract Dr. Sintim-Amoah? "I like what this group stands for. A network of highly skilled health professionals who work as a team to provide quality healthcare for families of all ages is a good fit for me," she explains.
Dr. Sintim-Amoah is married and has two children. "Clarksville is also a great place to live with plenty of family events and outdoor activities."
Dr. Sintim-Amoah is focused on providing pediatric services and is accepting new patients at the Premier Medical Pediatric Clinic located at 2199 Memorial Drive.
For more information about Premier Medical Group, visit www.premiermed.com