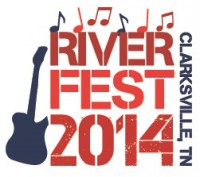 Clarksville, TN – The Riverfest Regatta, presented by U.S. Bank, is not your typical boat race. The boats racing down the Cumberland River at Saturday morning, September 6th were made of cardboard or plastic bottles along with a few other approved materials.
"We always enjoy the opportunity to sponsor city events," said Steve Kemmer of US Bank. "This is the eighth annual Riverfest Regatta, and we have been part of this event for the past several years! It's just a great way for us to give back to the community, and they have a lot of fun! The creativity is unbelievable."
"We're excited to be here today!" said Kevin Cowling, the manager of operations for the Clarksville Department of Parks and Recreation and the master of ceremonies for the Riverfest Regatta. "We are hoping that the weather holds out for the second day of the Riverfest Festival. For the Regatta we have a little bit of wind this morning, so the water is looking a little bit choppy which will make it an even bigger adventure for some of the boaters. We've got some new faces and a lot of old faces here today, so I'm ready to get this thing going"
"The Riverfest Regatta is a great event that the city puts on every year" said Ward 3 City Councilman James R. Lewis. "There is such a great crowd here today! The Clarksville Department of Parks and Recreation does a tremendous job sponsoring this and putting on the Riverfest Festival and the Regatta event."
Montgomery County Mayor Jim Durrett helped to carry one of the counties two entries down to the dock. "I am down here supporting the two boats from Montgomery county government and the Riverfest Regatta, Freedom and Shark Bite. Go Montgomery County!" I asked him who he was putting his money on to win the City and County Departments Division, and he responded "Shark Bites, I kinda think they are going to take it!" He turned out to be correct.
He continued, "The Riverfest Festival is an awesome event! Any time you can do something like this that lets the public come out and enjoy this great natural resource that we have in the Cumberland River it's a great thing!"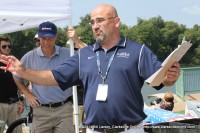 The Kennedy law firm enters a boat in the Riverfest Regatta each year. "Every year we have been in the Riverfest Regatta, and every year we give it our best!" said Kevin Kennedy of the Kennedy law firm. "Now today the boat is a little bit flimsy. Are we scared? One thing about the Kennedy law firm is that we have no fear!" He turned to his crew and asked, "Can I get an Amen" they responded "Amen!" Kevin continued, "No Fear! So it's an exciting day to be down here! We've got a great breeze. The crowd is excited! This is Clarksville Tennessee at its best!"
Twenty one boats competed not only for bragging rights, but trophies were awarded to the first, second, and third place teams in each division.
Below are the full results:
Adult Open – Cardboard
S(t)-Sm by Kenwood High School STEM  – 3:07
Business & Industry
KW N Motion by Keller Williams Realty  – 1:33
Quackers by the Guadalajara Grill – 1:45
The Silver Pearl by the Fort Campbell Federal Credit Union – 1:50
Church/Civic
Eagle Scout by the Boy Scouts of America – 1:31
Staz A Float by One Church TV – 1:57
IMUA by the Hui Hawaii O Tenesi Hawaiian Civic Club – 2:36
City/County Government
Shark Bite by the Montgomery County Facility Maintenance – 1:16
Leave it to Beaver by the Clarksville Police Department – 1:34
Freedom by Montgomery County  Government – 1:39
Plastic Bottle Boats
Voyager II by Trane – 1:37
Freudian Slip by NCC Psychology Cub – 2:29
Netta by Woodlawn Willows – Flipped
Youth  w/Adult
The Kraken by Andy Lee Fry – 4:11
Awards
Ship Shape Award- Most Creative Boat Design — Trauma 1.5 by Montgomery County EMS
Cardboard Queen- Prettiest Boat — Riverfest Rat Rod by Tennessee Frame
Team Unity- Most Spirited & Organized Team — Blachfield ACH  by Blachfield Army Community Hospital
Team Attire- Most Creative Costumes — RS Gamblers by RS Rod and Kustoms
Titanic Award- Most Spectacular Sinking — Netta by Woodlawn Willows
For more details on the Riverfest Regatta, please visit www.clarksvilleriverfest.com, or follow Clarksville  Online!
Photo Gallery