Austin Peay Sports Information Office

Ledbetter, KY – Austin Peay State University women's golf team showed its youth in Monday's opening round of the Jan Weaver-Murray State Invitational, but the Lady Govs bounced back with a second-round 300 to sit in eighth place after Day 1 of the 54-hole event, being played at the Drake Creek Golf Club.

After junior Jessica Cathey, a two-time Ohio Valley Conference selection, was the only Lady Gov to shoot a sub-80 first-round score, all five APSU participants broke 80 in the afternoon round.

The 300 score was the second lowest round of the second round and fourth lowest on the day.  Unfortunately the opening round 327 gave the Lady Govs a large hole from which to climb.

"It was all about confidence," APSU coach Sara Robson said. "In the morning round we played tentative, like we were scared, and in the second round we played much more relaxed and trusted ourselves.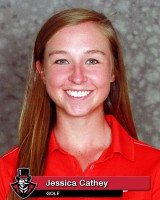 "Without question, we played much better. There is no reason we shouldn't play like this every round. We certainly are capable of that."
It was the first time all five Lady Govs team members had broken 80 since the last day of last fall's final event, the UAB Beach Blast. Cathey was rock solid on the day, shooting 76-74 for 150, tying her for seventh.
However, the day's best round came from Morgan Kauffman. After shooting an 84 morning round, Kauffman rebounded with a career-best 71, six shots better than her previous best in the same tourney a year ago. The long-hitting sophomore, who has struggled off the tee during preseason, never took her driver from the bag, using her three wood much of the time.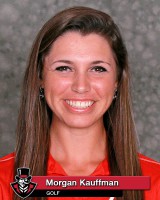 "We have been waiting for (Morgan) Kauffman to do something like this—she certainly is capable," Robson said. "Our goal for her is to hit in the middle of the fairway, the middle of the green and two putt. But she did more than that this after—she had some very good up and downs."

Freshman AnnaMichelle Moore was APSU's second most consistent golfer behind Cathey, Monday, shooting 81-79 for a 160.

"I thought AnnaMichelle, for her day playing college golf, certainly acquitted herself very well," Robson said. "She was nervous in the first round and settled down. She is capable of much more, but she certainly did well for the first day."

Senior Meghan Mueller followed an 86 with a 76 for a 162 while sophomore Amber Bosworth shot 87-79=166.

APSU's two individuals—sophomore Morgan Gardner (89-84) and freshman Sara Beth Struble  (87-89)—round out the Lady Govs performances.

Robson is looking forward to seeing how her young team potentially will build on Monday's second round.

"I expect us to go out and finish strong," she said. "We are capable of doing every day what we did today. It is a matter of trusting our shots and playing with confidence."



Sections
Sports
Topics
Amber Bosworth, AnnaMichelle Moore, APSU, APSU Athletics, APSU Golf, APSU Sports, APSU Women's Golf, Austin Peay State University, Drake Creek Golf Club, Jan Weaver-Murray State Invitational, Jessica Cathey, Lady Govs, Ledbetter KY, Morgan Gardner, Morgan Kauffman, Ohio Valley Conference, OVC, Sara Beth Struble, Sara Robson, UAB Beach Blast