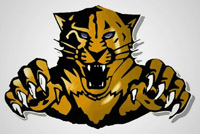 Clarksville, TN – It was a good day for Clarksville Academy's golf program, September 9th at Swan Lake Golf Course, with the girls team repeating as District 10-A tournament champions; while the boys team finishing runner-up to Lipscomb Academy.
With the championship and runner-up finish, the two squads will advance to the September 15th Region 5-A tournament at the Champions Run Golf Course, in Rockvale, TN.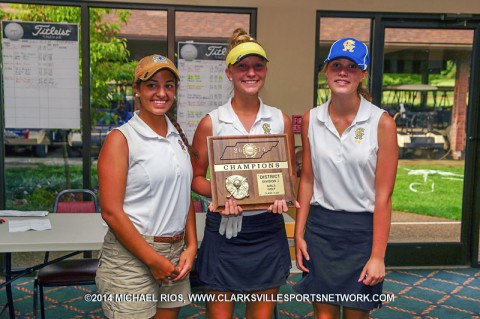 "It's incredible for the girls repeating as district champions, even after losing AnnaMichelle (Moore)," Clarksville Academy coach Jake Peterson said. "Bailey (Foote) really stepped up today and Mallory (Saleh) came in as a freshman and posted a solid round of 88 and Michaela Dowdy was our third (player).
"They've been a strong team all year and with Swan Lake being our home course it was kind of an advantage for us, but at the same time you have to come out with all of the other competitors and have great rounds."
Foote would finish as the runner-up medalist, after tying for low score with Lipscomb Academy's Christina Vetvong, with a round of 81 – but losing the playoff on the third extra hole of play.
Saleh was the fourth-place medalist.
Along with Clarksville Academy, Lipscomb Academy and East Robertson High School's teams will advance to the region tournament as runner-up and third-place finishers.
The top five scores, not on an advancing team will also advance to the region tournament and play as individuals – they are Hume-Fogg High School's Reagan Casteel, Martin Luther King High School's Zoe Robinson, Nashville Christian High School's Kate Pennington and Jo Byrns High School's Maecy Traughber and Haleigh Riley.
On the boy's side, the Cougars return to the region tournament after falling just a little short last year – with then freshman and current Clarksville Academy sophomore Austin Cherry being the lone player to advance last season.
"This is my first time to go to the region as a (boys) qualifying team," Peterson said. "It's exciting for them, with our low score coming from a freshman in Wyatt Samuels with an 81, but we had three scores in the low 80's and getting those three scores was a solid performance from out guys."
Along with advancing to next week's region tournament, the Cougars also had the highlight moment of the day by any individual player, with freshman Dawson Bagwell carding a hole-in-one on the 166-yard, par three, 13th hole.
"That has huge for a freshman to come into the district tournament and getting a hole-in-one," Peterson said. "If you think about it, we finish in second place by one stroke and if he just barely misses that shot on the hole-in-one and makes a birdie instead we tie Martin Luther King High School for second.
"That shot was the deciding factor with us getting second place and getting the second-place runner-up trophy."
Winning the tournament on the boys side was Lipscomb Academy, while Martin Luther King took third place.
Also advancing to the region tournament on the boys side to play as individuals are East Robertson's Levi Lorenzo and Cody Waggoner, McEwen High School's Kyle Hodge, Nashville Christian's Austin Bishop and Jo Byrns' Nicholas Henderson – who was low medalist on the boys side with a round of one-over 72.
Boys team scores
Lipscomb Academy 321, Clarksville Academy 349, Martin Luther King 350, East Robertson 365, McEwen 401, Hume-Fogg 401, Jo Byrns 425
Individual scores
Lipscomb Academy: Davis Armstrong 77, Paul Swindell 77, Heath Bridges 80, Hillin Wesch 87, Tyler Pierce 97
Clarksville Academy: Wyatt Samuels 81, Trevor Mace 84, Austin Cherry 85, Dawson Bagwell 99, Eli Grissom 113
Martin Luther King: Oliver Gore 80, Matt Bray 85, Kyle Koonce 88, Grant Runyan 97, Sean Fox 113
East Robertson: *Levi Lorenzo 80, *Cody Waggoner 85, John Michael Hobdy 99, Matthew Wix 101, B.J. Vaughn 103
McEwen: *Kyle Hodge 94, Ethan Soule 96, Austin Salzer 103, Logan Stewart 108, James Park 118
Hume-Fogg: John Robinson 94, Max Harris 97, Jacob Few 104, Davis Praskach 106
Jo Byrns: *Nicholas Henderson 72, Sammy Gray 116, Garrett Brock 117, Devlin Owens 120
Stratford: Chris Harrington 102, Sarawatay Srey 113, Carter Owen 126
Houston County: Cooper Morris 106, John Thomas Fuzzell 108, Mason Jones 149
Whites Creek: Aaron Johnson 122, Deontez Turner 137
Nashville Christian: *Austin Bishop 88
East Nashville: Ryan Troup 105
Girls team scores
Clarksville Academy 169, Lipscomb Academy 179, East Robertson 201, Hume-Fogg 204, Martin Luther King 213, Jo Byrns 214, Houston County 275
Individual scores
Clarksville Academy: Bailey Foote 81, Mallory Saleh 88, Michaela Dowdy 127
Lipscomb Academy: Christina Vetvong 81, Maryalice Armstrong 98, Carley Mitchell 109
East Robertson: Delaney Lazenby 88, Audrey Flynn 113
Hume-Fogg: *Reagan Casteel 96, Kanisha Whatley 108, Isabella Ryan 118
Martin Luther King: *Zoe Robinson 99, Gabrielle Edmonds-Andrews 114
Jo Byrns: *Maecy Traughber 107, *Haleigh Riley 107
Houston County: Madyson Middleton 133, Madison Steepe 142
Nashville Christian: *Kate Pennington 100
Stratford: Gracie Vester 166
* Advances to Region 5-A Tournament as an individuals