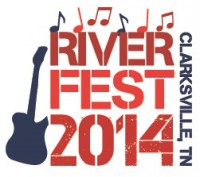 Clarksville, TN – Clarksville's Riverfest Festival held the Recycled Fashion Show on Saturday, September 6th on the River of Culture Stage located in the Adventure Zone.
Sponsored by Bi-County Waste Management, the event encouraged youth and adults to construct their fashions from nothing but recyclable items and materials.
There were two categories, Youth and Adult. The winners won cash prizes for their efforts.
The crowd on hand marveled at the work done by the contestants.
"Just seeing these outfits and the things that they use to put into them is really incredible. It just shows that we can do so much more with materials that show up in our landfills," said Mark Tummons, Director of Clarksville Parks and Recreation.
Youth Winners
1st: Hailey George, age 10. Created a dress made of a garden hose and cardboard.
2nd: Olivia George, age 9. Created a dress made of bottle caps and cardboard.
3rd: Nikki Roberts, age 6. Created a dress made of  newspapers, junk mail, plastic bags and bottles, milk carton, cast-off buttons, show laces, homemade glue.
Honorable Mention: Maisy George, age 13. Created a dress made of old trash bags and playing cards
Adult Winners
1st: Ashley Fitch. Created a dress made of newspapers.
2nd: Theresa Lusso. Created a jacket made of pet food bags, dryer sheets, grocery bags, plastic bottles, food container bags, coat hangers, blinds, screen.
---
The Recycled Fashion Show is put on to try and educate the public about the need to recycle in a fun and exciting way.
"I think the whole of our community is concerned with recycling. The materials that they use and produce," stated Tummons. "Clarksville Parks and Recreation became Green Certified earlier this year and were excited about that."
For more details on the Recycled Fashion Show, please visit www.clarksvilleriverfest.com
Photo Gallery