Clarksville, TN – The Fort Campbell Lady Falcons soccer team earned their sixth win in a row with a 3-0 victory on the road over the Kenwood Lady Knights Thursday night.
Despite going down 1-0 early, the Lady Knights played a solid game, especially on defense, with several opportunities to score. However, their front line could not convert against and equally stalwart Lady Falcons defense.
The Lady Falcons edged out the Lady Knights on time of possession and capitalized on momentum in the second half to put the game out of their reach.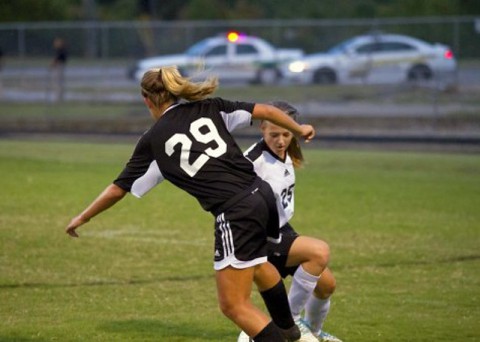 "We started off a little slow," Lady Falcons head coach Alysia Durham. "I think we were trying to figure out the feel of the game and everything. We weren't really connecting our passes and stuff. In the second half the momentum was much stronger."
Madison Ellis scored the first goal for the Lady Falcons in the second minute of the game. However, despite controlling the ball most of the first half, the Lady Falcons failed to find the net again.
"We got the early on goal and their defense just held us," Durham said.
Lady Knight freshman goalkeeper, Keona Boykin held the Falcons repeated offensive charges at bay. She made six of her total nine saves in the first half.
The Lady Falcons attempted 11 shots in the first half, seven on goal. The Lady Knights attempted only four shots in the first half.
Both teams offense increases their aggressiveness in the second half. The Lady Knights made three shots on goal with no success.
In the 67th minute Fort Campbell's Madison Ruggles beat Boykin on a break away goal and increased the Lady Falcons lead to 2-0.
Still on the attack two minutes later, Ruggles fired a shot between two Lady Knights defenders that bounced off the net's crossbar. Her teammate, Isabella Verones got the rebound and found the corner of the net for the Lady Falcons final score.
"The last two goals, I think the girls were connecting their passes more. The speed, it was there," Durham said. "I am pretty proud of them. It was a good, tough game."
Ruggles and Ellis both had six shots, with one goal in the game. Verones attempted two shots before scoring. Analiese Osborne led the Lady Knights, with six shot attempts, four on goal.
The loss was the Lady Knights third in a row. Next they will play at home against the Northwest Lady Vikings Tuesday, September 16th.
The Lady Falcons will try to win their seventh in a row against Logan County Monday, September 15th.
Box Score
| | | | |
| --- | --- | --- | --- |
| | 1 | 2 | Final |
| Kenwood Lady Knights | 0 | 0 | 0 |
| Fort Campbell Lady Falcons | 1 | 2 | 3 |