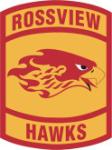 Clarksville, TN – Rossview High School's outside hitter Jessica Mattson collected 16 kills in just three games, September 11th, as she led the Lady Hawks to a 3-0 victory over Northwest High School, by scores of 25-13, 25-23, 25-16.
Mattson's 16 kills were more than half of the total kills recorded by Rossview (13-10, 6-2 District 10-AAA) in the match with Northwest's blocking at the net struggling to contain the Lady Hawks outsides.
"Most of the game is played out of systems anyway in high school volleyball, so you have to put strong hitters on the outside to be able to take most of the swings," Rossview first-year coach Krystal Weber said. "But we're also been working on getting that middle (attack) established, so that it will help to open up the hit on the outside for us.
"We're slowly getting to where we need to be, (middle) Katelyn Kane is being extremely aggressive and she can get a hold of some balls now and really put them down with some authority, it's just something that's going to take time."
Kane would record three kills in the middle, while Keili Keoho would join Mattson on the outside and record eight kills.
But even with the big night from the Rossview offense, Northwest (5-11, 0-8 District 10-AAA) would get out to leads in all three games. "We weren't satisfied with our level of play early-on and we can play better than that," Weber said. "We struggled with passing and we've been working on it in practice.
"We need to get the pass to our setter better so she can run all of her options for the offense. Right now they're not where they need to be, so our setter is struggling to get our hitters the ball.
Despite the struggles with the passing, Lady Hawks setter Macy Maynard finished with 28 assists.
In Game 1, Northwest would lead as late as late as 9-8, and be tied 11-1, before the Lady Hawks would go on a 8-0 run – powered by four aces by Keoho – to go up 19-11.
The Lady Vikings would never get any closer than seven points the rest of the way, with Mattson recording three kills over Rossview's final five points of the game for the 25-13 final.
In Game 2, the Lady Vikings bolted out to an early 8-3 advantage, forcing Rossview into a quick timeout.
The Lady Hawks would get back into the game, following the timeout, by scoring seven of the next 10 points to cut the Northwest lead down to a single point, 11-10.
The two teams would then trade mini-scoring runs, with Rossview taking its first lead of the game during one of those runs at 17-16.
Northwest would tie the game one final time at 18-18, before Rossview went on a 6-1 run to get to game point at 24-19.
The Lady Vikings wouldn't go away, scoring four straight points – including back-to-back kills by Christina Gilbert and an ace by Roni Schilling – to make it a one-point game, 24-23.
Gilbert led the Lady Vikings with four kills.
But Rossview was able to pick up the game's final point to take a 2-0 advantage.
The third, and final, game would see the two teams trade the lead six times early on, but after the game was tied for the final time at 12-12, much like Game 1, the Lady Hawks went on a big run – this time a 7-0 run – to take control 19-12 on their way to sweeping the match with a 25-16 Game 3 final.