Montgomery County, TN – A former jail deputy with the Montgomery County Sheriff's Office was indicted on charges of misconduct and sexual contact with an inmate.
Charles Edwards, 37, who gave a 131 West Drive Address, was booked on $15,000 bond today.
"As soon as the allegations were made against Edwards, we followed our established procedure by placing him on administrative leave with pay and began an internal investigation," said Sheriff John Fuson.
"At the conclusion of the investigation, evidence warranted immediate termination and required our findings to be presented to the grand jury, as is required by the Official Misconduct statute," stated Fuson.
Edwards did provide a confession during the investigation.
Because of the nature of the case, and because it has yet to go to trial, no other details will be released at this time.
Charles Edwards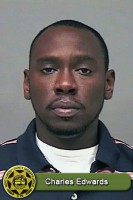 Name: Charles Edwards
Date of Birth: 3/ 11/ 77
Gender: M
Race: B
Address: 131 West Drive, Clarksville, TN
Arresting Officer: Cody Lannom
Charged With: Official Misconduct, Sexual Contact/Penetration of an Inmate by Law/Corr
Booked Into: Montgomery County Jail
Bond: $15,000