Austin Peay Sports Information

Clarksville, TN – Two in-season tournaments plus a move away from Monday Ohio Valley Conference contests highlight the 2014-15 Austin Peay State University women's basketball schedule, head coach Carrie Daniels presented, Monday.
The Lady Govs will compete in two in-season tournaments for the first time since the 2007-08 season.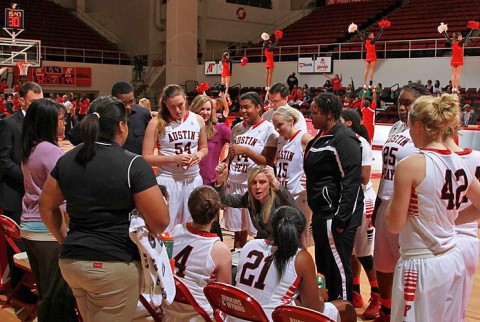 Austin Peay will spend Thanksgiving weekend, November 28th-29th, in Hattiesburg, Mississippi, where they will play host Southern Miss in the opening game before facing either North Carolina A&T or Oral Roberts.
During the Christmas break the Lady Govs will travel to Missoula, Montana, for games December 19th-20th. Austin Peay will be in a field that includes host Montana, St. Louis and Detroit.
Another key change to the Lady Govs 2014-15 slate is a move away from the Saturday-Monday Ohio Valley Conference schedule used the past two seasons.
The league moved the women's schedule to a Wednesday-Saturday format while giving league members the option to move the Wednesday women's contest to Thursday. Austin Peay has used the option and will play all four of its home midweek contests on Thursdays throughout the season.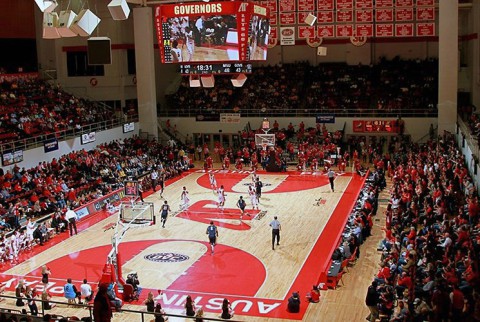 "There are a lot of exciting changes this season," said Lady Govs head coach Carrie Daniels. "The OVC coaches asked for changes to scheduling and the tournament and the athletic directors and presidents gave us the flexibility to implement those changes. I believe the changes will help our sport grow."
Austin Peay will host two preseason contests to prepare for the 2014-15 campaign. The Lady Govs host St. Catherine in a 4:00pm, Saturday, November 1st, contest that will be part of a tripleheader, beginning with volleyball at 1:00pm and ending with a 6:00pm men's basketball exhibition contest that day. Austin Peay also will host Martin Methodist in a 2:00pm, Sunday, November 9th, contest at the Dunn Center.
The Lady Govs regular season schedule begins with a 6:00pm, Friday, November 14th home contest against Wright State – its first home season opener since 2011-12 and first meeting against Wright State since 1993-94. Austin Peay's road schedule begins two days later with a 2:00pm, Sunday, November 16th meeting at Evansville.
Austin Peay returns to the Dunn Center to resume its 13-game home slate. The nonconference portion of that schedule includes contests against Grand Canyon (November 22nd), Brescia (December 6th), Southern Illinois (December 13th) and Western Kentucky (December 16th). On the flip side, the 16-game road schedule includes nonconference contests at Chattanooga (November 24th), at Memphis (December 2nd) and at Central Arkansas (December 30th).
"The early portion of our schedule will provide a lot of different tests," said Daniels. "We always attempt to schedule a variety of opponents that will give us different looks and a chance to evaluate where we stand going into conference play."
The Ohio Valley Conference schedule features a return to a single-division format. The standings will be listed in a 1-12 format, matching the seeding procedure for the women's championship.
Austin Peay's OVC schedule begins with a three-game road trip. Austin Peay begins the OVC campaign at Eastern Kentucky, Saturday, January 3rd. The road trip continues with games at Jacksonville State (January 8th) and Tennessee Tech (January 10th).
Austin Peay opens a three-game OVC homestand with its first Thursday doubleheader when it hosts Belmont, Thursday, January 15th, prior to the men's basketball contest against Tennessee State. The Lady Govs then host Tennessee State (January 17th) followed by their lone Monday contest in OVC play, January 19th, against Morehead State.
January concludes with a Saturday, January 24th, contest at Eastern Illinois followed by a Wednesday, January 28th, affair at SIU Edwardsville. The Lady Govs wrap up the month by starting its longest homestand of the season with a Saturday, January 31st, meeting against Southeast Missouri.
That homestand continues into February with home contests against UT Martin (February 5th), Murray State (February 7th) and Eastern Illinois (February 12th). A brief trip to UT Martin on Valentine's Day is followed by the Lady Govs final home game, Thursday, February 19th, against SIU Edwardsville.
The Lady Govs conclude the regular season with two contests in the final nine days, both on Saturdays. First is the return trip to Murray State (February 21st) followed by a trip to Southeast Missouri (February 28th).
"Our conference schedule will be tough all the way through," said Daniels. "It gets off to a tough start with two important road trips so early in the schedule. The nice part is we spend most of an entire month at home. However, we then have three road trips in the final three weekends that will prove critical to our season."
The Ohio Valley Conference Women's Basketball Championship begins Wednesday, March 4th, at Municipal Auditorium. The women's championship also was modified during this summer's OVC meetings.
The top eight teams will be seeded – 1 vs. 8, 2 vs. 7, 3 vs. 6 and 4 vs. 5 – with the top two seeded teams playing Wednesday and the winners receiving a day off. The games involving the third and fourth seeded teams will be played Thursday. Semifinal games will be played Friday with the championship following Saturday.
2014-15 APSU Women's Basketball Schedule
Home Games are in bold
Neutral Site Games are in italics
* denotes a Ohio Valley Conference contest
Date

Opponent

Location

Time

11/1/2014
St. Catherine (Exh.)
Clarksville, TN
4:00pm
11/9/2014
Martin Methodist (Exh.)
Clarksville, TN
2:00pm
11/14/2014
Wright State
Clarksville, TN
6:00pm
11/16/2014
Evansville
Evansville, Ind.
2:00pm
11/22/2014
Grand Canyon
Clarksville, TN
11:00am
11/24/2014
Chattanooga
Chattanooga, TN
5:00pm
Southern Miss Thanksgiving Invitational
11/28/2014
Southern Miss
Hattiesburg, Miss.
3:00pm
11/29/2014
North Carolina A&T/Oral Roberts
Hattiesburg, Miss.
TBA
12/2/2014
Memphis
Memphis, TN
7:00pm
12/6/2014
Brescia
Clarksville, TN
2:00pm
12/13/2014
Southern Illinois
Clarksville, TN
1:00pm
12/16/2014
Western Kentucky
Clarksville, TN
6:00pm
Lady Griz Holiday Classic
12/19/2014
Saint Louis
Missoula, Mont.
6:30pm
12/20/2014
Montana/Utah Valley
Missoula, Mont.
TBA
12/30/2014
Central Arkansas
Conway, Ark.
2 p.m.
1/3/2015
*
Eastern Kentucky
Richmond, Ky.
TBA
1/8/2015
*
Jacksonville State
Jacksonville, Ala.
TBA
1/10/2015
*
Tennessee Tech
Cookeville, TN
TBA
1/15/2015
*
Belmont
Clarksville, TN
5:15pm
1/17/2015
*
Tennessee State
Clarksville, TN
4:30pm
1/19/2015
*
Morehead State
Clarksville, TN
5:15pm
1/24/2015
*
Eastern Illinois
Charleston, Ill.
TBA
1/28/2015
*
SIU Edwardsville
Edwardsville, Ill.
TBA
1/31/2015
*
Southeast Missouri
Clarksville, TN
4:30pm
2/5/2015
*
UT Martin
Clarksville, TN
5:15pm
2/7/2015
*
Murray State
Clarksville, TN
4:30pm
2/12/2015
*
Eastern Illinois
Clarksville, TN
7:30pm
2/14/2015
*
UT Martin
Martin, TN
TBA
2/19/2015
*
SIU Edwardsville
Clarksville, TN
7:00pm
2/21/2015
*
Murray State
Murray, Ky.
TBA
2/28/2015
*
Southeast Missouri
Cape Girardeau, Mo.
TBA
Ohio Valley Conference Women's Basketball Championship
3/4/2015
Quarterfinals (No. 1 & 2 Seeds)
Nashville, TN
TBA
3/5/2015
Quarterfinals (No. 3 & 4 Seeds)
Nashville, TN
TBA
3/6/2015
Semifinals
Nashville, TN
TBA
3/7/2015
Championship
Nashville, TN
TBA
NCAA Division I Women's Basketball Championship
3/20/2015
First Round
TBA
TBA
3/22/2015
Second Round
TBA
TBA
3/27/2015
Regional Semifinals
TBA
TBA
3/29/2015
Regional Finals
TBA
TBA
4/5/2015
National Semifinals
Tampa, Fla.
TBA
4/7/2015
National Championship
Tampa, Fla.
TBA