APSU Sports Information Office

Burlington, IA – A slow start and a halting finish offset some strong mid-round play as Austin Peay State University men's golf team remains in ninth place after two rounds of the Golfweek Conference Challenge, being played at Spirit Hollow Golf Course.
The Govs played the opening hole (No. 10) at 5-over par and closed the round (No. 9) at 4-over.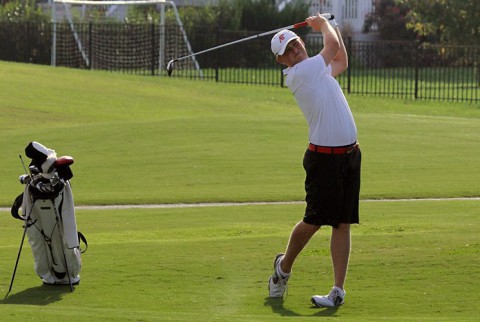 As a result, they ended the round with a 303 and are at 602 overall heading into Tuesday's final round.
LSU is in total control of the tournament, shooting a 281 after an opening-round 278. Its 559 is 17 strokes better than SMU (576) with host Iowa at 587.
"We didn't finish well," said APSU interim coach Dustin Korte said. "Obviously, we got off to a slow start but we did a great job of managing the course in the mid part of round, kept our emotions in check to a point where maybe we got a little too comfortable late."
Playing perhaps his best golf as a Governor, junior Austin Kramer overcame a bogey on his opening hole to find himself at 3-under for the round and 5-under for the tournament heading to his 17th hole. But Kramer bogeyed the 17th and doubled the 18th as water became his nemesis. Still he finished at even par and his 2-under 142 still has Kramer in fourth place.
"Kramer is really playing great golf," Korte said. "He got off to a slow start and really came back from it. He just had an issue with the water there late."
Fellow junior Chris Baker was another who got off to a slow start, bogeying No. 10 but had his score at 1-over heading to his 13th hole. But a bogey on that hole and a double on No. 9 left him 4-over 76 and in an 18th-place tie.
Freshman Justin Arens is another who struggled early with a double on No. 11 and a triple on No. 15, with a birdie on No. 14, but settled to play the final 12 holes at 1-over.  Fellow freshman Luis Navarrete had only one birdie on the day but saved it for the final as he shot 6-over 78.
The Govs' third freshman Jonas Vaisanen finished with an 80.
"After that slow start (10 over through six holes) we settled down and played some really good golf," Korte said. "We started moving the other way and at one point had it down to 7-over. But we just didn't finish well.
"We just need to keep our heads up and go out. This is not a defining moment for this team. It is learning experience, like all the tournaments will be this fall. We will learn from this round and see if we can move up tomorrow. It is there for us to do that."