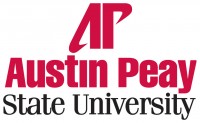 Clarksville, TN – Anyone driving down Riverside Drive on September 9th might have seen a peculiar sight on the Cumberland River near McGregor Park. Two zodiacs—black inflatable military boats—were crossing the river filled with Austin Peay State University Reserve Officer Training Corp (ROTC) cadets. The cadets were rowing fervently to get to the other side of the river, retrieve two mock casualties and transport them back to the APSU campus.
The mission was part of the ROTC program's weekly Tuesday morning BLITZ. One cadet is chosen each week to lead the squad in a predetermined mission that creates an environment of adversity, both physically and mentally.
The missions, meant to represent real-world scenarios that a leader in the U.S. Army could face, test the cadets' reactions and decision making abilities. The BLITZ missions allow the leader and the squad to think critically and innovatively under immense stress, making them stronger leaders.
A local unit from Fort Campbell provided the zodiacs for the September 9th BLITZ.
"I feel that the proximity of APSU ROTC to Fort Campbell provides our program with access to excellent training facilities and opportunities, as well as a plethora of contacts that are willing to work with the program and provide support," APSU Cadet Andrew Shriver, cadet battalion executive officer, said.
For more information on the APSU ROTC Program, please visit the website, http://www.apsu.edu/rotc.