Montgomery County, TN – Thanks to the keen eye of a Montgomery County Sheriff's Office school resource officer Tuesday, a sex offender was arrested after showing up at local elementary school.
According to Tennessee Code Annotated, sex offenders are not allowed at schools, parks, playgrounds and daycares unless they are dropping off or picking up children.
Brian Keith Gross, 28, who gave a 3482 Arvin Drive address, was arrested for violation of the sex offender registry. His bond was set at $25,000. His original conviction was of sexual battery and burglary in Stewart County. The victim was a female minor.
Deputy Marci Oliver, the SRO at the school, noticed Gross. Investigator Jeffrey Morlock, who is in charge of the sex offender registry for Montgomery County, provides resource officers with photo lists of sex offenders each month. Oliver recognized Gross and detained him.
"School resource officers and I work very closely together in keeping sex offenders away from the schools and arresting them if they violate the law," said Morlock.
"This reiterates the importance of our elementary school SRO program," said Montgomery County Sheriff John Fuson. "We are proud of the work that Deputy Oliver does every day for her assigned school. Her keen eye may have very well pre-empted a potentially serious situation."
Brian Gross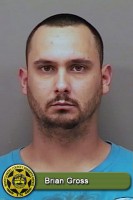 Name: Brian Keith Gross
Date of Birth: 5/ 4/ 86
Gender: M
Race: W
Address: 3482 Arvin Drive, Clarksville, TN
Arresting Officer: Jeffrey Morlock
Charged With: Violation Sexual Offender Registry
Booked Into: Montgomery County Jail
Bond: $25,000