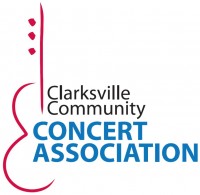 Clarksville, TN – In the opening act of their 2014-2015 season, the Clarksville Community Concert Association presented the world famous Parker Quartet along with Guest Clarinetist Charles Neidich in a concert held in  the George and Sharon Mabry Concert Hall at the Music and Mass Communication Building on Austin Peay State University.
The Parker Quartet features Daniel Chong and Ying Xue on Violin. Jessica Bodner on the Viola, Kee-Hyun Kim on the Cello; and they were joined in the second half by Charles Neidich on the Bassett clarinet.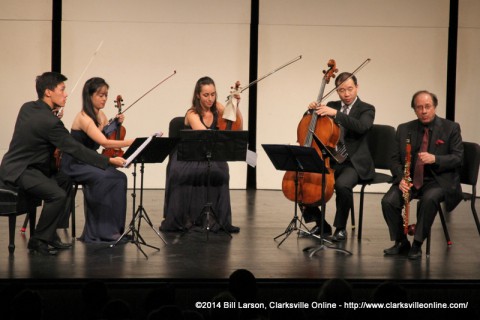 I spoke with both Daniel Chong and Charles Neidich after the concert.
"It's absolutely wonderful to be playing here in Clarksville Tennessee today!" said Chong.
He spoke a bit about their program for the concert. "Our program was pretty eclectic, it started with the Haydn Quartet." Chong continued, "Joseph Haydn is kind of the quintessential classical composer. I am sure that when most people think about classical music, they think of music such as that made by Haydn."
Chong spoke about the second set, "Then we followed that with a more modern piece by Henri Dutileux." He described the piece, "It is a fascinating work that is sort of like a musical painting of the night with all of its abstract visions, scenes, and colors. It's just an incredibly colorful piece."
After a short intermission they continued playing with Charles Neidich, "Then we finished the program with the able assistance of Charles Neidich, an amazing clarinetist. He has obviously played this Mozart clarinet quintet many times before. So it was real treat to be able to play that with him. It's one of Mozart's greatest pieces, I think his second movement in this work the clarinet quartet is one of the most beautiful things that he ever wrote!"
Our community made a great impression on them, "So far our impression is that people here seem to love music so much! They've given us such a warm welcome," said Chong.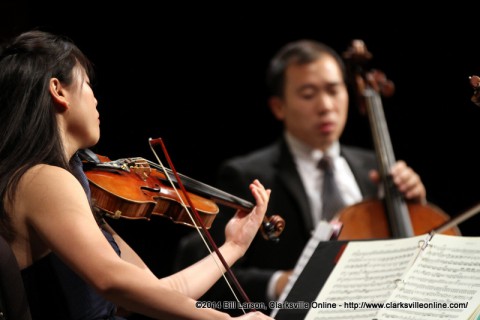 Charles Neidich joined in, "Oh, I think it was wonderful. The audience was great!" He continued, "It was a great pleasure for me to play it with the Parker Quartet."
Neidich also spoke a little about his impressions of the evenings program, "The quartet played the first two pieces, which were wonderful, and the Dutileux which is one of my favorite works! I was so happy that they performed. It was very evocative!"
He continued, "And the clarinet quintet of course is one of the greatest works of chamber music ever. And of course the greatest work of chamber music for clarinet and string quartet. It's really an amazing piece!"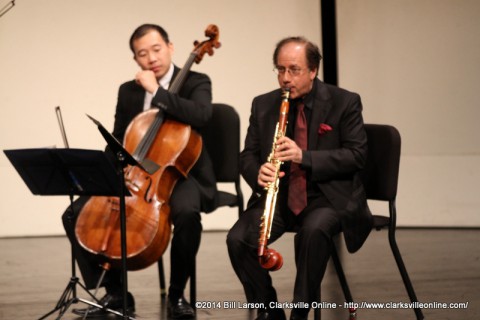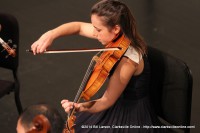 I asked Neidich about his unique instrument, "The instrument I played tonight was a Bassett clarinet, which is longer than usual, and has an unusual shape. Because that was the shape which Mozart's friend the clarinetist Anton Stadler had built when he played the instrument for him." The instrument is known for its "beautiful tone, with exceptional mastery of the low register".
I asked both men about their impressions of the George and Sharon Mabry Concert Hall at Austin Peay State University. Chong said, "The concert hall was absolutely beautiful, it was such an inspiration to play. The sound is extremely colorful and responsive yet clear. So it was a real treat to play here." Neidich agreed, "The hall is really I would say much better than average in this country. And the whole ambiance was terrific!"
Austin Peay students were the ultimate beneficiaries from the visit by these world class musicians. During their time in Clarksville The Parker Quartet worked extensively with the students at the university. "We've been working with the students a little bit so far, and we obviously played a concert tonight. We will be working with the students further tomorrow morning. It has been such a pleasure to work with them, as that are so passionate about music," stated Chong.
Neidich also spent time while at Austin Peay State University conducting master classes for the students, "I have been here all week, and I've given four master classes, along with lectures, and other performances. I am very impressed with Austin Peay, and the Music Department! They have a wonderful faculty, they are very excited, dedicated, and are tremendously professional!"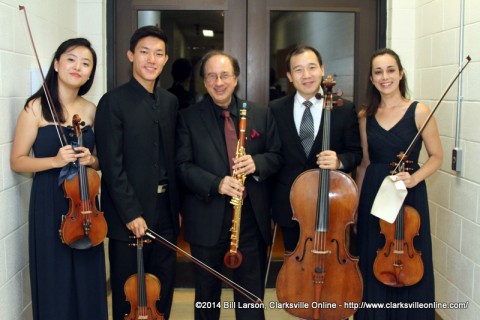 For the Parker Quartet more touring is in their immediate future, "The quartet will continue to turn around this country and the world. We are quite active in terms of touring, and we are quite active educationally, such as during our visit here in Clarksville. We have a few different residencies, and while touring work with students. So we gave a concert but we will also tie that in with some sort of educational activities."
Neidich was getting a rare opportunity to spend a few days at home in New York, "I get go back to New York for a couple of days then I go out to Madison Wisconsin where I will play with another excellent string quartet called the Pro Arte Quartet."
Photo Gallery
Upcoming Concert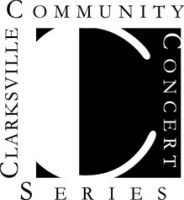 The next concert in the Clarksville Community Concert Association's Clarksville Community Concert Series is scheduled for November 9th with marimba player Kevin Bobo.
Marimba solo, marimba duo, steel pan, and drums! An eclectic, engaging, percussion concert by internationally recognized Kevin Bobo. Bobo's expertise as a composer and performer is sure to fascinate. He has depth as a musician, skill as a performer, sensitive interpretation, plus a sense of humor. Kevin Bobo loves to relate to his audience and is sure to fascinate.
About the Parker Quartet
Formed in 2002, the Grammy Award-winning Parker Quartet has rapidly distinguished itself as one of the preeminent ensembles of its generation. The New York Times has hailed the quartet as "something extraordinary," the Washington Post has described them as having "exceptional virtuosity [and] imaginative interpretation," and the Boston Globe acclaims their "pinpoint precision and spectacular sense of urgency." The quartet began touring on the international circuit after winning the Concert Artists Guild Competition as well as the Grand Prix and Mozart Prize at the Bordeaux International String Quartet Competition in France. Chamber Music America awarded the quartet the prestigious biennial Cleveland Quartet Award for the 2009–2011 seasons. The Parker Quartet recently joined the faculty of Harvard University's Department of Music as Blodgett Artists-in-Residence.
Highlights of the 2014–2015 season include the project Schubert Effect in collaboration with Shai Wosner at the 92nd Street Y, the premiere of a new string quartet by Augusta Read Thomas as part of the quartet's four-concert series at Harvard University, and return engagements at Wigmore Hall and Music at Amherst.
The Quartet also continues to be a strong supporter of Kim Kashkashian's project Music for Food by participating in concerts throughout the Boston area for the benefit of the Boston Food Bank.
Performance highlights from recent seasons include appearances at Carnegie Hall, 92nd Street Y, Philadelphia Chamber Music Society, Library of Congress, the Slee Series in Buffalo, Music Toronto, Concertgebouw in Amsterdam, Wigmore Hall in London, Musikverein in Vienna, Monte Carlo Spring Festival, Seoul Arts Center, Rockport Chamber Music Festival, Mecklenburg-Vorpommern Festspiele in Germany, and San Miguel de Allende Festival in Mexico.
The quartet has recently collaborated with artists including Kim Kashkashian, Nadja Salerno-Sonnenberg, Anne- Marie McDermott, Shai Wosner, Kikuei Ikeda of the Tokyo Quartet, Jörg Widmann, and Claron McFaddon.
In 2012 the Parker Quartet was the recipient of a Chamber Music America commissioning grant, enabling the ensemble to commission and premiere Capriccio, an hour-length work by American composer Jeremy Gill.
Successful early concert touring in Europe helped the quartet forge a relationship with Zig-Zag Territoires, which released their debut commercial recording of Bartók's String Quartets Nos. 2 and 5 in July 2007. The disc earned high praise from numerous critics, including Gramophone: "The Parkers' Bartók spins the illusion of spontaneous improvisation… they have absorbed the language; they have the confidence to play freely with the music and the instinct to bring it off."
The quartet's second recording, György Ligeti's complete works for string quartet, was released on Naxos in December 2009 to critical acclaim. This recording won the 2011 Grammy Award for Best Chamber Music Performance. They are the last string quartet to have won this category.
The Quartet was founded and is currently based in Boston. In addition to their full-time residency at Harvard, they will continue its visiting residency at the University of South Carolina. From 2008 to 2013, the quartet spent much of its time in St. Paul, MN, where they served as Quartet-in-Residence with the St. Paul Chamber Orchestra (2008–2010), were the first-ever Artists-in-Residence with Minnesota Public Radio (2009–2010), visiting artists at the University of Minnesota (2011–2012), and Artists-in-Residence at the University of St. Thomas (2012–2014).
The Parker Quartet's members hold graduate degrees in performance and chamber music from the New England Conservatory of Music and were part of the New England Conservatory's prestigious Professional String Quartet Training Program from 2006–2008. Some of their most influential mentors include the Cleveland Quartet, Kim Kashkashian, György Kurtág, and Rainer Schmidt.
The best way to get more information about the Parker Quartet is to visit their website www.parkerquartet.com. There are also three social media outlets Facebook, Twitter, and Weibo.
 About Charles Neidich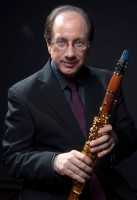 Charles Neidich has been hailed by the New Yorker as "a master of his instrument and beyond a clarinetist." He has been described as one of the most mesmerizing musicians performing before the public today.
Neidich regularly appears as soloist and as collaborator in chamber music programs with leading ensembles including the Saint Louis Symphony, Minneapolis Symphony, Orpheus Chamber Orchestra, I Musici di Montreal, Tafelmusik, Handel/Haydn Society, Royal Philharmonic, Deutsches Philharmonic, MDR Symphony, Yomiuri Symphony, National Symphony of Taiwan, and the Juilliard, Guarneri, Brentano, American, Mendelssohn, Carmina, Colorado, and Cavani String Quartets.
Mr. Neidich has performed throughout Europe, Asia, and the United States, and is a sought after participant at many summer festivals such as the Marlboro and Sarasota festivals in the USA, the Orford and Domaines Forget festivals in Canada, BBC Proms in England, Festival Consonances and Pontivy in France, Corsi Internazionali di Perfezionamento in Italy, Kuhmo, Crusell Week, Turku, and Korsholm festivals in Finland, the Apeldoorn Festival in Holland, Music from Moritzburg in Germany, the Kirishima and Lilia summer festivals in Japan, and the Beijing Festival in China.
When Charles Neidich began studying clarinet with his father, Irving Neidich at the age of 7, he had already started piano lessons with his mother, Litsa Gania Neidich. He continued studying both instruments, but the clarinet gradually won out, and he went at the age of 17 to continue studying with the noted clarinet teacher, Leon Russianoff. After 4 years at Yale University where he majored in Anthropology, Charles Neidich went to the Moscow State Conservatory as the first recipient of a Fulbright grant to study in the Soviet Union. He studied in Moscow for 3 years as a student of the clarinetist, Boris Dikov, and the pianist, Kirill Vinogradov.
Known as a leading exponent of period instrument performance practice (he is the founder of the noted period instrument wind ensemble, "Mozzafiato") Charles Neidich was one of the first soloists to improvise cadenzas and ornament classical concertos.
He has performed his restoration of the Mozart Concerto throughout the world both on modern and period instruments. Mr. Neidich has been influential in restoring original versions of works and bringing them before the public. A list of the clarinet classics he has restored to their original form includes works as diverse as the previously mentioned Mozart Concerto, Concerti of Weber and Copland, the Soireest cke of Robert Schumann and the Andante and Allegro of Ernest Chausson.
Mr. Neidich is also an ardent exponent of new music and has premiered works by Milton Babbitt, Elliott Carter, Edison Denisov, Helmut Lachenmann, William Schuman, Ralph Shapey, Joan Tower, Katia Tchemberdji, Vasilii Lobanov and others. He has championed John Corigliano's Concerto, performing it throughout the United States notably with the Syracuse and Jacksonville Symphonies in performances many have called definitive.
His recordings are available on the sony Classical, Sony Vivarte, Deutsche Grammophon, Musicmasters, Hyperion, and Bridge labels. For Aaron Copland's centennial, he released the world premiere recording of his reconstruction of the original version of Copland's Clarinet Concerto with "I Musici di Montreal" for the Chandos label.
Mr. Neidich has turned his attention in a serious way to conducting, and has appeared with the Avanti chamber Orchestra, Tapiola Sinfonietta, Helsinki, at the Båstad Festival in Sweden, the Kirishima Festival in Japan, with the New World and the San Diego Symphonies (in a triple role of conductor, soloist, and composer), and in Bulgaria with the Plovdiv State Philharmonic.
Very active in education, Charles Neidich is on the faculties of the Juilliard School, Queens College of the City University of New York, the Manhattan School, and the Mannes College of Music, and has held visiting positions at the Sibelius Academy in Finland, the Yale School of Music, and Michigan State University.
He is in demand for master classes around the world and for innovative lecture concerts he has devised such as "Old is New: how playing old music on period instruments is like playing new music on modern instruments," and "Craft and Drama: how understanding how Brahms composed makes for a more compelling performance."
With his wife, Ayako Oshima, he has published a book on the basics of clarinet technique for the Japanese publisher, TOA Ongaku inc. Last Spring, Charles Neidich was the recipient of the William Schuman Award given by the Juilliard School for outstanding performance and scholarship.
The best way to get more information about Charles Neidich is to visit his website www.charlesneidich.com. He also has a YouTube, Play it with a Pro site, and a Facebook page.f